If you've ventured out of the basement at all lately, you'll have noticed that summer is upon us.  Always a long time coming, it's nothing short of super-appreciated.  Now that it's here, I find myself almost frantically trying to make the most of it, before it's gone again!  The  summer's short around here, and so we need to make every moment count.
Enjoying summer meals on the patio is a big part of what I love about summer. Enjoying a sizzling burger with chilled glass of Bumbleberry Fruit Wine, or sipping a glass of Raspberry Fruit Wine while munching on patio appetizers can't be beat. The final course, however, can be really fun. I'm talking about using dessert wines for scrumptious summer desserts.
If you've been by the farmers markets lately, you'll notice that FRESH BERRIES are in vast supply! Beautiful, luscious berries piled up in boxes, just waiting for you to take them home. I have a stock tip for you: TAKE SOME.  With the addition of our flavourful dessert wines, you can make some mouth-watering berry desserts with very little effort, that will leave your guests asking for more.  Here's three of our favourites.
Field Stone Summer Swirl Dessert – the simplest of them all!
1 liter softened vanilla ice cream
125 ml Raspberry Dessert Wine
Combine in a blender and blend. Pour into martini glasses. Re-freeze. Top with fresh raspberries and some chocolate shavings. Yum!
This easy-as-pie summer pleaser can be used with whatever berry you may have on hand. If you have strawberries – use our Strawberry Dessert Wine. If you have blackberries or blueberries, use our Black Currant Dessert Wine. Saskatoons? Use Saskatoon Berry Dessert Wine. You get the idea. There are some great combos out there. Whatever your choice, the results will be delicious.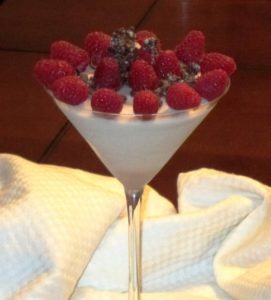 With a little more effort, you can serve up this beautiful trifle on the patio table. Everyone loves strawberries – especially this time of year – and here's a great way to enjoy the flavours:
Field Stone Creamy Strawberry Trifle
1 baked white cake, 2 layer size
2 cups (or desired amount) sliced fresh strawberries
1 vanilla pudding and pie filling, 6 serving size
3 cups milk
1/2 cup Strawberry Dessert Wine (or more, to taste)
1 cup whipping cream
1/2 tsp vanilla
Cut cake into chunks.  Cook pudding with milk according to package directions. Cool to room temperature. Hasten cooling by placing pan in cold water, stirring often.
Whip cream and vanilla until stiff. Make layers of cake chunks, a generous sprinkle of Strawberry Dessert Wine, sliced strawberries and pudding in glass trifle bowl, using as many layers as needed according to size of bowl. Make the last layer pudding. Spread whipped cream over top. Chill. Garnish with fresh strawberries, if desired. Serves 12.
 And here are my two favourite flavours in the world, in perfect harmony…
Raspberry Chocolate Mousse
3 cups fresh raspberries
½ cup Field Stone Raspberry Dessert Wine
2 cups chocolate chips, melted and cooled
16 oz cream cheese, softened
¼ cup honey
3 Tbsp. Field Stone Raspberry Dessert Wine
3 Tbsp. crème de cacao
1 tsp vanilla
Gently combine raspberries with ½ cup of the wine. Beat together melted chocolate, cream cheese and honey til fluffy. Beat in 3 Tbsp. raspberry wine, crème de cacao and vanilla until blended. Spoon raspberry mixture evenly into 8 small dishes. Top each serving with mousse. Garnish with chocolate curls and refrigerate for up to one day before serving.
Does patio dining get any better than that?
As I've mentioned many times before, another wonderful way to make the most of the berry season is to serve up delightful, colourful, fruit wine sangrias and cocktails.   Fruit wines aren't just great on their own, they take your summer drinks to a whole new level.
Blissful Blueberry Cocktail
Remember the old "Long Island Ice Tea" cocktail from the 70's?  Here are those yummy flavours together again in a wine cocktail…
5 oz. Blueberry Fruit Wine
5 oz.  San Pellegrino Orange (Aranciata)
5 oz. ml. Lemon iced tea (Pure Leaf or similar)
Lemon slice
Fresh blueberries
Combine the ingredients in a tall glass over ice.  Add lemon slice and some blueberries. Delish!
And with B.C. cherries vastly available this week, we've been getting rave reviews on this one! Trust me, this one has "summer" written all over it:
Cheery Cherry Sangria
1 – bottle Cherry Fruit Wine
4 – shots Wild Black Cherry Dessert Wine
1 – each, lemon and lime
1 – peach, sliced
12 cherries, pitted and sliced
½ cup apple juice
1 can club soda
Add the juice of one half of the lemon and one half of the lime to the pitcher.  Slice the other halves and add to pitcher with pitted cherries and the sliced peach.  Add wines and juice and chill for at least an hour.  Add soda and ice just before serving. Yum!
Of course you can find many more summer recipes using fruit wines at www.fieldstonefruitwines.com on the "Recipes" page. And don't forget to follow us on Facebook, Twitter and Instagram for daily news and recipe ideas.
In closing, we'd like to say a big thanks to everyone who has supported us at Farmers Markets around the province this past month.  Isn't it great to be meeting people and seeing their faces again?  You can find a complete list of our Alberta seasonal markets anytime by visiting www.fieldstonefruitwines.com/find-us.
Isn't summer great?  Warm weather, sunshine, farmers markets, seasonal fruits, garden bounty.
Just add patio-perfect, award-winning, Alberta fruit wines, and stir.
Happy July everyone! May you have a "berry" wonderful summer.