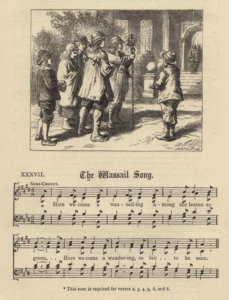 In December, lines from Christmas carols seem to be constantly humming in my head.  This morning, it's this one again: "Here we come a-wassailing among the leaves so green."
Many of you are probably familiar with The Wassail Song… but possibly not so familiar with the traditions of early England. (I've told this story before, but it's an interesting one, and bears repeating.)  Apparently in the cider-producing counties of west England, "wassailing" involved singing processions and ceremonies throughout the orchards, where participants raised a cup to the health of the apple trees, in the hopes that they might better thrive.
Now how much fun would it be to put fruit wine in that wassail cup and do the same for our saskatoon berry trees? In Alberta, the leaves may not be green at Christmas time, but the plants are no less worthy of our care because they are dormant in December. The early British might have been on to something… and perhaps next year we should organize a Saskatoon Berry Orchard Wassail….
But back to this year!
December is such a great month for fruit wines. Whether you are attending office parties, entertaining friends, buying gifts or planning holiday recipes, you can incorporate fruit wines into any and every event. In addition to purchasing fruit wines, dessert wines or gift packs for gift-giving (which, incidentally, makes gift-shopping as easy as pumpkin pie), there are many ways you can offer your friends and family the great flavours of fruit wines throughout the season.
To assist you in this, I will soon be starting a 20-day countdown on our Facebook page, wherein I will post a new recipe each day that you can use in your holiday entertaining, or just for your own enjoyment. The recipes vary from drinks to desserts to main course items, using each of our wines in a unique way. As such I am not going include holiday recipes in this newsletter; I will rather refer you to our facebook page and let you enjoy all the ideas there!   No worries though… my favourites for the Christmas feast will all be included in the December posts at some point.  Some will also appear on our Instagram as well.
And speaking of the Christmas feast, please note that all our locations have a great stock of Bumbleberry Fruit Wine this month. Many of you have now made Bumbleberry a staple pairing with a roast turkey meal, and for anyone who hasn't tried it yet, we urge you to consider it this year. Parsley, sage, thyme… accompanied by subtle flavours of native berries…. it really is great marriage. Take a break from a traditional white wine pairing, and try on a new pair!
And for those of you who prefer your accompanying wine a bit on the drier side, don't hesitate to try our Black Currant Fruit Wine – a brand new batch now available, and if I do say so myself, positively perfect for the big meal!
As of today, almost all of our one or two-day holiday markets are finished, but never fear, we are still full-time weekends for the entire month at Edmonton Bountiful Market, Calgary Farmers Market South, Calgary Farmers Market West, Calgary Crossroads Market, Gasoline Alley Farmers Market (Red Deer) and at Heritage Park as part of their "Once Upon A Christmas" event.  We have all our varieties available for your holiday season pleasure, as well as pre-packaged gift packs consisting of one fruit wine and one dessert wine, at 10% off. At $40 each, these are the perfect hostess gift, office exchange gift, or foodie gift! There are also some extended hours at the markets in December.  Check out the details here:  www.calgaryfarmersmarket.ca,  www.bountifulmarkets.com; www.gasolinealleymarket.ca;  www.crossroadsmarket.ca; www.heritagepark.ca.  Come on down!
Nothing beats festive Christmas shopping at a market – and nothing can get you in the Christmas spirit faster!  During your trip, be sure to stop by any of our booths for a delicious sample of our "Mulled Cherry Wine" or our "Mulled Bumbleberry Wine."  This is a wonderful addition to your Christmas feasting, and if you haven't tried making it before now, please know that simmering Alberta fruit wines with apple juice, cloves and cinnamon can add a new dimension to your festive Christmas drinks.  One sip and you just may want to make 'Mulled Berry Wine' your new Christmas tradition…
Finally, I don't want to finish up December's newsletter without addressing the perfect New Year's Eve! As many of you already know, our Dessert Wines are a perfect match for a little sparkling wine.  So for a slightly different twist this year, why not adapt the traditional Canadian Kir Royale to include a little Italian sparkling wine….
Canadian-Italian Kir Royale:
2 oz Prosecco
1 oz Field Stone Black Currant Dessert Wine
Pour together in a champagne flute and enjoy the beautiful colour as well as the taste.  Garnish with a lemon twist.
This is a lovely and beautiful celebratory cocktail, and a great one to enjoy with friends and family.
And … that's all for this month.
So from all of us at Field Stone, in the closing words of The Wassail Song:
Love and joy come to you,
And to you glad Christmas too,
And God bless you and send you a Happy New Year!
And God send you a Happy New Year!