Don't let the white stuff from this past weekend fool you.  It really is Spring!
If you need more proof, check the calendar.  Coming up in just two weeks: the Easter Long Weekend!  A marvelous Spring holiday, traditionally packed full of feasting and enjoying the start of a new season.
Be not deterred.  Let's get the new season started!
If you are planning a traditional turkey feast, then this is your reminder to stock up on Bumbleberry Fruit Wine to accompany it.  As you already know, nothing compliments a spring feast like the delicate flavours of native berries.   If your preference is for ham, then we unreservedly recommend Cherry Fruit Wine along side!
I recently came across this simple-step ham recipe that amplifies any Easter spread.  Simple but yummy, this glaze enhances the flavour of a good ham, without masking it.  Served with Cherry Fruit Wine, the subtle flavours melt together in a delightful spring taste. It will make you forget the iffy weather!
Festive Glazed Ham
1 full cooked whole ham
1 cup cherry preserves
¼ cup red wine vinegar
2 Tbsp. light corn syrup
¼ tsp. cinnamon
¼ tsp. nutmeg
¼ tsp. ground cloves
1/3 cup toasted slivered almonds
3 Tbsp. water
Heat oven to 325 degrees F. Place ham on a rack in a shallow baking pan. Bake, uncovered, in a 325 degrees F oven about 1-1/2 hours.  Meanwhile, in a saucepan combine the cherry preserves, vinegar, corn syrup, and spices. Cook and stir until boiling. Reduce heat; simmer two minutes.  Stir in almonds. Remove from heat. Put 3/4 cup of the glaze to the side.
About 15 minutes before the ham is done, spoon some of the remaining glaze over the ham, basting occasionally. Remove from oven; place on a heated serving platter. Stir the water into the reserved 3/4-cup glaze; heat and serve along with the ham.  Yum!
Need a special cocktail for arriving guests?  Keep with the cherry theme and offer up this easy but delicious martini.
Wild Cherry Crantini
1 part vodka
1 part white cranberry juice
1 part Wild Black Cherry Dessert Wine
Mix together in a shaker with crushed ice, and shake well. Strain into a chilled martini glass and garnish with a cherry.  You'll be dreaming of cherry blossoms …
For stocking up Easter treats, there's no better place than your farmers market. If you live in Calgary, we're happy to tell you that Calgary Farmers Market is open the entire long weekend.    While you're there, you can visit Spragg's Meats for natural, free-range ham.  Of course the markets are FULL of other Easter events – egg decorating, photos, egg hunts, you name it.  Have your picture taken with the Easter Bunny in exchange for a food or cash donation for the Calgary Food Bank.
We'll be offering our Easter Special at CFM for the next two weekends – one Bumbleberry Fruit Wine packaged with One Cherry Fruit Wine for 10% off.  Time to stock up!
Along with the Easter holiday, other Spring events are coming up fast and the Field Stone crew is out and about this month.  First up is the Crossfield Spring Market on April 22nd.  It takes place at the Crossfield Community Center from 10am to 4pm.  There are presently 95 vendors signed up to take part, so it promises to be a great shopping day.  Come on out if you are in the area.  Rain, blizzard or chinook, this market is a go – the first of the season!
If you live in Red Deer, perhaps you've gotten in on all the excitement around the opening of Central Alberta Co-op Timberlands location this month.  Our congratulations to Co-op, who has done it again with a beautiful new wine store.  We are pleased to offer our products there so stop by and say hello to Derek and all the staff.  And don't forget to pick up Field Stone on your way out!
Looking ahead, we are gearing up for the opening of many seasonal farmers markets in the month of May.  We'll have more about that in next month's newsletter and on our social media sites.  We can't wait to get summer started!
In the meantime, be sure and stay in touch with us at our many conversation points.  Find us at Facebook, Instagram and Twitter and watch for market openings and seasonal promotions, which will show up there first.
Finally, to all our newsletter readers, a little thank you for reading this far.  Mention receiving this newsletter at our Calgary Farmers Market booth for the next two weekends, and received 20% off our Easter Special.  Or, mention the newsletter at the Crossfield Spring Market for 20% off your purchase that day.  And Thank You for reading our newsletter!
And that's all for this month.  Have a wonderful Easter, and enjoy your summer in a bottle.
Happy New Season, everyone!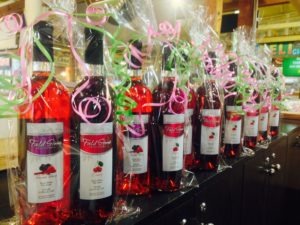 Sign Up For Our Newsletter

Find Articles