On Saturday, in our neck of the woods, the forecast is for April Showers reigning supreme (pun intended).
I always find rain a bit of a downer. But in the midst of it, I can't help but remember Bing Crosby and his opening line in "April Showers": "Life is not a highway strewn with flowers, still it holds a goodly share of bliss." A goodly share of bliss – this is what we need to concentrate on!  And for some of us, a great glass of wine can contribute to that bliss better than most things. If you count yourself in that category, I have good news for you…
Our new release of Black Currant Fruit Wine is on the shelf and waiting for you. In my humble opinion, this is the best Black Currant we have ever produced. Its subtle, but well-defined black currant flavour, along with its characteristic tartness, makes its dry finish a delight on your tongue. But don't take my word for it. Drop by Calgary Farmers Market this week and taste it for yourself. I'd love to hear from you after that!
Not traditionally known for its great weather, April has surprised us this month with a taste of summer.  If you're like us, you are more than ready to get on board and embrace our favourite hashtag: #PatioTime.  It may seem like we're pushing the season, but trust me, it's never too early to enjoy fruit wine sangrias. With that in mind, I'm sharing one of my  favourites:  Black Currant–Prosecco Sangria.  This slightly-bubbly version is a great way to usher in patio season, and its similar flavours to the Kir Royale will seem appropriately celebratory for your long-weekend sipping!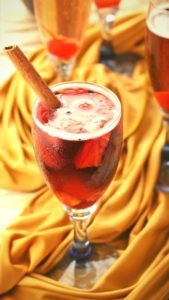 Black Currant–Prosecco Sangria
1 nectarine, chopped
3 slices of watermelon, cubed
1/2 cup blueberries
1/2 cup cherries, cut in half & pitted
1/4 english cucumber, peeled & sliced thinly (Opt)
2-2 1/2 cups of prosecco
1- cup soda
½ cup Black Currant Dessert Wine
Combine all the ingredients in a pitcher and stir to mix.  Chill for at least 3 hours. Serve cold and garnished with watermelon slices.
This sangria sparkles and bubbles a beautiful red colour and looks gorgeous in a fluted glass.  Bring it on, #PatioTime.
And coming up in a couple of weeks?  Easter!  In my mind, Easter brings the word "feast" to a whole new level.  I can smell the turkeys and hams roasting already.  This is your reminder to stock up on Bumbleberry Fruit Wine for the turkey feast and don't forget Cherry Fruit Wine if your preference is for ham.  As many of you already know, nothing compliments a spring feast like the delicate flavours of native berries.  And as an added bonus, on Easter Weekend we'll be offering a packaged duo of one Bumbleberry and one Cherry at 10% off!   Now that's easy… let the feasting begin!
With warm weather in our sights, we are busily getting ready to hit the Seasonal Farmers Markets circuit.  We are super excited to be adding some new locations around the province this year, and at the same time returning to many of our favourites.  We'll have more about each of them in next month's newsletter, so stay tuned.  Perhaps we'll be set up in your neighbourhood this summer…
And for a sneak preview of summer markets, come join us this Saturday, April 6 at the Crossfield Spring Market.  Host to a large variety of artisans and food vendors, it is the perfect stop for unique foods and gifts… and just in time for Easter/Mother's Day/Father's Day and Graduation.  There will be over 100 artisans and food trucks on site!  Come on out to 900 Mountain Avenue between 10 and 4pm.  Free admission and food bank donations accepted.
Of course our products are available year-round at many fine retailers in Alberta (including all Co-op stores) and we are always happy to be adding newcomers to the Field Stone family.  This month, for the first time, you will find our wines at  Co-op Mountain Ridge, Cochrane.  I just love their address:  100 Horse Creek Road.  If Cochrane is your neighbourhood, please drop by this week and give your support to an excellent new store that is supporting local Alberta products.  And don't forget, a complete list of our stores can be found anytime at www.fieldstonefruitwines.com/find-us.  It takes a village!
And if Red Deer is your neighbourhood, and you are looking for a fun night out this weekend, come find us at the Alberta Food and Beverage Expo at Westerner Park.  Doors open at 5pm and there will be hundreds of samples for you to enjoy:  wines, spirits, craft beers and delicious food from Red Deer's finest restaurants and food suppliers.  You can find more information and tickets at www.eatdrinkalberta.com.  See you there!
Finally, if you are like me and are ready to leave baked fruit crisps behind now that Spring is here, try this Field Stone favourite for your next dinner party, or maybe even Easter dinner.  It has Summer written all over it!  Not only is it extremely yummy, it has the added bonus of being beautiful.
Field Stone Strawberry Cream Trifle
1 baked white cake, 2 layer size
2 cups (or desired amount) sliced fresh strawberries
1 Vanilla pudding and pie filling, 6 serving size
3 cups milk
1/2 cup Field Stone Strawberry Dessert Wine
1 cup whipping cream
1/2 tsp vanilla
Cut cake into chunks.   Cook pudding with milk according to package directions.  Cool to room temperature.  Hasten cooling by placing pan in cold water, stirring often.
Whip cream and vanilla until stiff.  Make layers of cake chunks, a generous sprinkle of Strawberry Dessert Wine, sliced strawberries and pudding in glass trifle bowl, using as many layers as needed according to size of bowl.  Make the last layer pudding.  Spread whipped cream over top.  Chill.  Garnish with fresh strawberries, if desired.   Enjoy!
And that's all for this month.
Happy Spring Everyone… let #PatioTime begin!
Sign Up For Our Newsletter

Find Articles