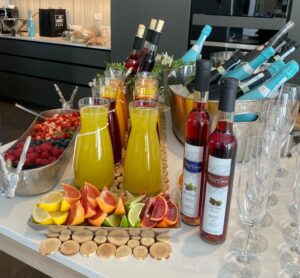 Don't let the white stuff from this past week fool you.  It really is Spring!
If you need more proof, check the calendar.  It's April.  We are ready for change, and we are optimistic.  As someone once said, "Spring is when you feel like whistling, even with a shoe full of slush."
First up?  The Easter Long Weekend!  Celebrating early Easter starts April off just right:  a marvelous Spring holiday, traditionally packed full of feasting and enjoying the start of a new season.
Be not deterred.  Let's get the new season started!
If you are planning a traditional turkey feast, then this is your reminder to stock up on Bumbleberry Fruit Wine to accompany it.  As you already know, nothing compliments a spring feast like the delicate flavours of native berries.   But don't stop there!  If your preference is for ham, then we unreservedly recommend Cherry Fruit Wine along side!
 To make it easy for you, we'll be offering our Easter DUO at all our market locations this week: one Bumbleberry Fruit Wine packaged with One Cherry Fruit Wine for 10% off.  Packaged up with a ribbon, it's also the perfect hostess gift.  Come on down and get yours! What says "Spring" like fruit wine?
If you are a particular fan of the ham feast at Easter, I'm posting again a simple-step ham recipe that amplifies any Easter spread.  Simple but yummy, this glaze enhances the flavour of a good ham, without masking it.  Served with Cherry Fruit Wine, the subtle flavours melt together in a delightful spring taste. It will make you forget the iffy weather!
Festive Glazed Ham
1 full cooked whole ham
1 cup cherry preserves
¼ cup red wine vinegar
2 Tbsp. light corn syrup
¼ tsp. cinnamon
¼ tsp. nutmeg
¼ tsp. ground cloves
1/3 cup toasted slivered almonds
3 Tbsp. water
Heat oven to 325 degrees F. Place ham on a rack in a shallow baking pan. Bake, uncovered, in a 325 degrees F oven about 1-1/2 hours.  Meanwhile, in a saucepan combine the cherry preserves, vinegar, corn syrup, and spices. Cook and stir until boiling. Reduce heat; simmer two minutes.  Stir in almonds. Remove from heat. Put 3/4 cup of the glaze to the side.
About 15 minutes before the ham is done, spoon some of the remaining glaze over the ham, basting occasionally. Remove from oven; place on a heated serving platter. Stir the water into the reserved 3/4-cup glaze; heat and serve along with the ham.  Yum!
Are you thinking about a special cocktail for guests this year?  Keep with the cherry theme and offer up this easy but delicious martini.
Wild Cherry Crantini
1 part vodka
1 part white cranberry juice
1 part Wild Black Cherry Dessert Wine
Mix together in a shaker with crushed ice, and shake well. Strain into a chilled martini glass and garnish with a cherry.  You'll be dreaming of cherry blossoms …
And for those of you who are planning an Easter Brunch this year … a reminder not to forget the Dessert Wines!  Our five luscious flavours add a great pop of flavour to your Champagne/Prosecco cocktails.  Set them all out and let your guests pick their favourite.  In addition to tasting great, they look lovely!
As many of you well know, for stocking up Easter treats, there's no better place than your local farmers market. Of course the markets are FULL of other Easter events – egg decorating, photos, egg hunts, you name it.  We can't begin to list all the fun events at our markets this weekend, but please check out these sites for more information:
https://www.facebook.com/calgaryfarmersmarket
https://www.facebook.com/bountifulfarmersmarketyeg
https://www.facebook.com/GasolineAlleyFarmersMarket
https://www.facebook.com/Crossroadsmarket
Another great thing about April is that it brings a 'sneak preview' of seasonal summer markets.  We've got two one-day Spring Markets for you this month…
This Saturday, April 8 you will find us at Airdrie Spring Fling. This popular early-season market never fails to deliver!  10 am to 4pm, Town and Country Center.   More information at www.facebook.com/airdriefarmersmarket.
And after last year's successful test run,  we are excited to announce the 2nd annual Millarville Spring Market on April 29th.  Everyone's favourite drive in the country can once again start a little early this year.  With over 100 vendors, it is the perfect stop for unique foods and gifts… and just in time for Mother's Day/Father's Day and Graduation.  Open from 9-2 and entry fee is by donation.  Check out www.millarvilleracetrack.com.
Looking ahead, we are gearing up for the opening of some seasonal farmers markets in the month of May.  We'll have more about that in next month's newsletter and on our social media pages.  Like all of you, we can't wait to get summer started!
In the meantime, be sure and stay in touch with us at our many conversation points.  Find us at Facebook, Instagram and Twitter and watch for market openings and seasonal promotions, which will show up there first.
Finally, for all who have been asking, the answer is 'yes' we will be at the Fort McMurray Trade Show and Artisan Market from May 5-7.  You'll find us at 1 MacDonald Drive all three days, and there is more info at www.fortmcmurraytradeshows.com.  We look very forward to being there and bringing our products to share with you!
And that's all for this month.  Have a wonderful Easter, and enjoy your summer in a bottle.
Happy New Season, everyone!