Believe it or not, here we are at the end of 2017 and the Christmas Season is really, truly upon us.  What immediately comes to mind is the wonderful opportunity we have to celebrate – a season of spreading good cheer, of spending time with family and friends, of sharing, caring and giving.
It's no secret that many of us celebrate the holidays with special foods, with special drinks, with festive entertaining, even pulling out recipes for things we may make only once a year.  Social media is rampant with ideas and suggestions.  Every day of the week I seem to be bombarded with recipes, food blogs, products and advertising urging me to try something new.  But, if you like "simple" as much as I do, allow us to suggest using fruit wines for your holiday entertaining.   They can make any occasion unique – adding flavour and uniqueness without adding too much work!  So once again, December's newsletter will offer ten scrumptious fruit-wine-entertaining ideas, in the hopes it will help your celebration be light on effort, but long on flavour.
1. Black Currant Prosecco Sangria
For anyone who, like me, loves the combination of all things sparkling with Christmas, here is a lovely way to sparkle up your buffet table.  Generally thought of as a summer sipper, a sparkling Sangria can look lovely and tickle the tastebuds any time of year!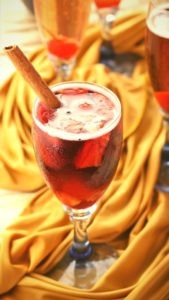 1 nectarine, chopped
3 slices of watermelon, cubed
1/2 cup blueberries
1/2 cup cherries, cut in half & pitted
1/4 English cucumber, peeled & sliced thinly (Opt)
2-2 1/2 cups of prosecco
1- cup soda
½ cup Black Currant Dessert Wine
Combine all the ingredients in a pitcher and stir to mix.  Chill for at least 3 hours. Serve cold in chilled glasses. Love that sparkle!
2. Mulled Cherry Wine.  (Including one more time due to popular demand this month…_)
Our ultimate Christmas Eve favourite.  Do you love the spicy aromas of cinnamon and cloves wafting through the house?  Our Cherry Fruit Wine makes a unique and delicious mulled wine!
2 bottles Field Stone Cherry Fruit Wine
1 litre apple juice
4 cinnamon sticks
10 cloves
Up to ½ cup of sugar (optional: to taste)
Peel from 1 orange
Peel from 1 lemon
Combine all ingredients and heat mixture over medium heat until hot, about 4-5 minutes.  Reduce heat and simmer for several minutes to develop flavours, without boiling. Strain and serve in heatproof glasses or mugs.  Use a cinnamon stick as a stirrer if you wish.  So Christmas-y with great fruit flavours!
3.  Hot Raspberry Dream.  If you prefer to mix one yummy fruit wine drink at a time for your front-of-fireplace relaxing, try this one:
1 oz. Raspberry Dessert Wine
1 oz. Creme de Cacao
Pour into a mug, fill with steamed milk and stir.  Garnish with chocolate shavings….
4.  Raspberry Crantini.
Do you prefer a martini, shaken or stirred?  This one has "Holiday" written all over it.
1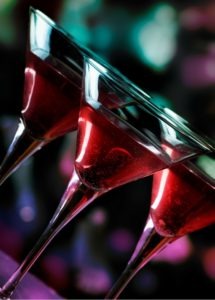 part Vodka
1 part Field Stone Raspberry Dessert Wine
1 part Cranberry Juice
Squeeze of lemon
Pour ingredients into a shaker with cracked ice and shake well. Serve into chilled martini glasses. Garnish with a fresh raspberry.
5.   Strawberry Cheese Pate.
Do you like a few special appetizers for Christmas Day?  Here's an easy, make-ahead appy with a unique flavour:
2  ¾  oz (75 g) hard goat's cheese
2  ¾ oz  (75 g) blue cheese (Roquefort or Gorgonzola)
Small bunch of chives
6 fresh sage leaves
1 clove garlic
3-4 tablespoons Strawberry Dessert Wine
Remove any rind from cheeses.  Trim, rinse and dry the chives and sage and peel the garlic.  Put all into food processor or blender and process them to a thick paste.
Add the wine gradually, blend until smooth, then spoon into a dish to serve.  If not using immediately, cover with plastic wrap, but do not refrigerate.  Serve with water biscuits or breadsticks.  Yum!
6.  Berry Fig & Onion Compote:
OK, one more make-ahead appy idea.  This one keeps in the fridge so very well!
½ cup Saskatoon Berry Dessert Wine or Wild Black Cherry Dessert Wine
½ cup red wine
1 cup dried mission figs, quartered
1 red onion, diced finely
1 tbsp. balsamic vinegar
Soak the figs in both wines for a minimum of one hour. Over medium heat, saute the onions in some olive oil. Add figs, wine and vinegar. Reduce to medium-low and continue cooking until wine is cooked down and the mixture takes on a jam-like consistency.  Serve with raincoast crisps!
7.  Cranberry Sauce Extraordinaire.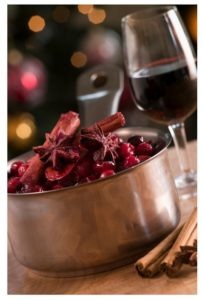 Of course it's impossible to talk about a turkey feast without mentioning our most popular dessert-wine recipe ever.  At the risk of repeating myself, it turns something regular into something special!
1 bag fresh cranberries
¼ teaspoon cinnamon or 1 cinnamon stick
Dash nutmeg
1 cup Wild Black Cherry Dessert Wine
¾ cup wildberry juice
¼ cup honey
Simmer all ingredients until berries are soft and slightly reduced.  Cool and serve.
8.   Saskatoon Berry Dressing.
Here's an simple flavour boost to a turkey-feast staple.
Chop 24 dried prunes and soak in Saskatoon Berry Dessert Wine overnight.  Add to your favourite stuffing recipe.  It's a snap!  (Dried saskatoons or cranberries also work great.)
9.  Saskatoon Berry Fudge Brownies.
Do you like a little sweet snack at the end of your feasting day?  Here's a little twist on an all-time favourite.
4 oz. unsweetened chocolate
½ cup butter
1 ½ cups sugar
½ tsp vanilla
2 eggs
¾ cup flour
¼ tsp. salt
½ cup saskatoon berries
½ cup Saskatoon Berry Dessert Wine
Melt the chocolate and butter in microwave, stirring often.  (Or melt in small saucepan on stove, stirring until smooth.) Stir in sugar and vanilla. Add eggs, one at a time, stirring well after each addition. Stir in flour and salt just until blended.
In a small saucepan, combine saskatoon berries and wine. Bring to a boil over medium heat; cook until liquid is reduced to a thin syrupy consistency (about 6-8 minutes). Stir into the batter.
Transfer to a greased 9-inch square baking pan. Bake at 325 for 30-35 minutes or until a toothpick inserted near the center comes out clean (do not overbake). Cool on a wire rack.
Optional: Try this recipe using dried cranberries and Wild Black Cherry Dessert Wine. Also yummy!
10.  Raspberry Chocolate Mousse.
Do you like to have some make-ahead, easy-to-grab desserts in the fridge for Christmas week?  Here's one with everyone's two favourite flavours: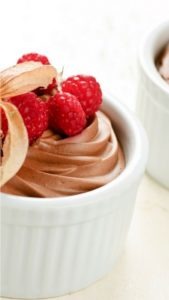 3 cups fresh or frozen raspberries
½ cup Raspberry Dessert Wine
2 cups chocolate chips, melted and cooled
16 oz cream cheese, softened
¼ cup honey
3 Tbsp. Raspberry Dessert Wine
3 Tbsp. crème de cacao
1 tsp vanilla
Gently combine raspberries with ½ cup of the wine. Beat together melted chocolate, cream cheese and honey til fluffy. Beat in 3 Tbsp. raspberry wine, crème de cacao and vanilla until blended. Spoon raspberry mixture evenly into 8 small dishes. Top each each serving with mousse. Garnish with chocolate curls and refrigerate for up to one day before serving.
Of course, I'd be remiss if I didn't remind us that fruit wines are also great for gift-giving.  Office party gifts, hostess gifts, gifts for the foodie or wine-lover on your list: there's something for everyone.  From now through to Christmas, our popular pre-packaged gift-packs are available at Calgary Farmers Market Thursday through Sunday. Consisting of one fruit wine and one dessert wine, at 10% off, we offer combinations of drier or sweeter wines.  At $35-$40 each, they are a great gift without breaking the bank.
A quick note on our holiday week hours:  Calgary Farmers Market will be open (9am-5pm) from December 20 to 23, and then re-open on January 4.   This market is chock-full of wonderful Christmas events from now til Christmas.  The entire market has been transformed into the "Calgary Christmas Market" with pop-up vendors and so many new products.  There are great vendor giveaways each day, cookie decorating, music, gift wrapping, visits from Santa – you name it. Be sure and get in on some events!  More info anytime at www.calgaryfarmersmarket.ca.
And for all of you looking to pick up your Bumbleberry Fruit Wine (our choice, always, for the turkey pairing), please note that ALL our fine retail stores have great fruit-wine inventory this time of year.  For a complete list of our retailers, you can always visit www.fieldstonefruitwines.com/find-us.
Thanks to everyone who has visited us at our many seasonal Christmas markets this year.  It has been a whirlwind, but a good one!  We have two more seasonal events:  the Cochrane Christmas Market this Saturday and Sunday at the Spray Lake Family Sports Center from 10am to 4pm.  We will also be at the Hillhurst-Sunnyside Market for two Wednesdays (13th and 20th) at the Community Hall.  Come on out for your last bit of Christmas market shopping.
And finally, December's newsletter just wouldn't be complete if I didn't include the perfect New Year's Eve suggestion:
Canadian Kir Royale: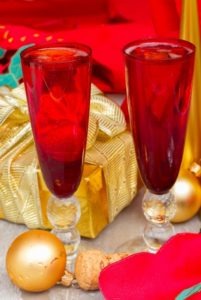 2 oz Canadian champagne
1 oz Field Stone Black Currant Dessert Wine
Pour together in a champagne flute and enjoy the beautiful colour as well as the taste.  Garnish with a lemon twist.
This is a beautiful celebratory cocktail, and a great one to enjoy with friends and family.
And that's all for December.  At this time of year, our heartfelt thanks go out to all our customers who faithfully support us all year long.  We wouldn't be here today without all of you.
So, from all us at Field Stone, in the words of songwriter Johnny Marks:
Have a holly jolly Christmas;
It's the best time of the year.
I don't know if there'll be snow,
But have a cup of cheer!
Have a holly jolly Christmas
And in case you didn't hear,
Oh, by golly, have a holly jolly
Christmas this year!
Sign Up For Our Newsletter

Find Articles