There's a popular Christmas tune by Johnny Marks, made famous many years ago by Burl Ives, that goes like this:
Have a holly jolly Christmas;
It's the best time of the year.
I don't know if there'll be snow,
But have a cup of cheer!
It occurs to me that there are many things about the season we can't control, not only the weather. But we can certainly control what happens in the food and drink department!
Isn't Christmas a great time to prepare new things, or things we only make once a year? Don't leave out the fruit wines… they can make any occasion unique!
Having guests? As they arrive, serve this bubbly and sparkly favourite to toast the season. Everyone loves the rich flavour of cassis, and Field Stone's dessert wine is here to help:
Field Stone Festive Royale
2 oz Canadian champagne, Prosecco or any sparkling white wine
1 oz Field Stone Black Currant Dessert Wine
Pour together in a champagne flute and enjoy the beautiful colour as well as the taste. Garnish with a lemon twist. So easy!
(I also have it on good authority that if you prefer a different Field Stone flavour in your sparkly, all our of dessert wines are equally yummy … )
Using our dessert wines for added flavour in appetizers is popular around here as well. Here's two great little appies we love:
Saskatoon Fig and Onion Compote
½ cup Saskatoon Berry Dessert Wine or Wild Black Cherry Dessert Wine
½ cup red wine
1 cup dried mission figs, quartered
1 red onion, diced finely
1 tbsp. balsamic vinegar
Soak the figs in both wines for a minimum of one hour. Over medium heat, saute the onions in some olive oil. Add figs, wine and vinegar. Reduce to medium-low and continue cooking until wine is cooked down and the mixture takes on a jam-like consistency.
Serve with raincoast crisps!
Strawberry Cheese Pate
2 ¾ oz (75 g) hard goat's cheese
2 ¾ oz (75 g) blue cheese (Roquefort or Gorgonzola)
Small bunch of chives
6 fresh sage leaves
1 clove garlic
3-4 tablespoons Strawberry Dessert Wine
Remove any rind from cheeses. Trim, rinse and dry the chives and sage and peel the garlic. Put all into food processor or blender and process them to a thick paste.  Add the wine gradually, blend until smooth, then spoon into a dish to serve.  If not using immediately, cover with plastic wrap, but do not refrigerate. Serve with water biscuits or breadsticks.  Yum!
As you probably already know, I just can't seem to let a turkey feast go by without reminding you of one of my all-time favourite recipes. Add a great flavour punch by using our Wild Black Cherry Dessert Wine in your cranberry sauce:
Cranberry Sauce Extraordinaire
1 bag fresh cranberries
¼ teaspoon cinnamon or 1 cinnamon stick
Dash nutmeg
1 cup Wild Black Cherry dessert wine
¾ cup wildberry juice
¼ cup honey
Simmer all ingredients until berries are soft and slightly reduced. Cool and serve.
And for something different, try adding Saskatoon Berry Dessert Wine to your turkey dressing:
Saskatoon-Prune Dressing:
Chop 24 dried prunes and soak in Saskatoon Berry Dessert Wine overnight. Add to your favourite stuffing recipe for a yummy flavour boost!
And I would be remiss if I didn't once again mention our Bumbleberry Fruit Wine as an excellent pairing with turkey dinner. Parsley, sage, thyme… accompanied by subtle flavours of native berries…. Who can resist? And if you like your wine a little drier – try the Black Currant Fruit Wine – also excellent with the feast.
Finally, don't let your Christmas Night come to a close without a steaming mug of hot something. Here's Field Stone's version of nightcap cocoa:
Hot Raspberry Dream
1 oz. Raspberry Dessert Wine
1 oz. Creme de Cacao
Pour into a mug, fill with steamed milk and stir.
Garnish with chocolate shavings.  Oooh!
For many more holiday recipes – martinis, cocktails, desserts and more – don't forget to visit our website and click the "Recipes" tab.  You'll find our ever-popular Mulled Cherry Wine recipe there as well.  Happy feasting, everyone!
On another front, we can still help you with your Christmas shopping list! Right through to December 23rd, we'll be offering our Fruit Wine gift packs at Calgary Farmers Market.  And there's still plenty of time to pick up a bottle of fruit wine or dessert wine at your local wine store. (www.fieldstonefruitwines.com/find-us).  Unique wines are the perfect hostess gift or Christmas gift for the foodie or wine lover on your list.  Shop different and shop local!
So however you use fruit wines this holiday season – simple sipping, with your turkey feast or mixed into great recipies – we hope you enjoy them while relaxing with friends and family.
And from all us, in the closing words of Johnny Marks,
Have a holly jolly Christmas
And in case you didn't hear,
Oh, by golly, have a holly jolly
Christmas this year!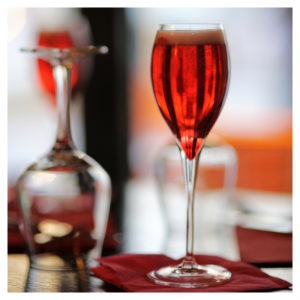 Sign Up For Our Newsletter

Find Articles