It's possible to love February.
Often a cold month here in Canada, February can seem endless and uneventful. Valentine's Day, however, pops up in the middle, and we Canadians use it mercilessly to bring some excitement to the month! The question is: what's the best way to generate some excitement?
To me, nothing says "Valentine" like "Dessert Wine". They rhyme for a reason: they're the perfect pairing!
As discussed in last month's newsletter, what can be better than opening that nicely sweet taste of summer berries in February? Their luscious, concentrated flavours can be sipped on their own, shaken up in a cocktail, enjoyed with some ice cream, used in a dessert treat or mixed into prosecco or champagne… endless possibilities!
In celebration of "Dessert Wine Day" Field Stone is offering 15% off ALL dessert wines for a limited time at Calgary Farmers Market. Packaged and pretty, all you have to do is pick your favourite flavour: Strawberry, Raspberry, Wild Black Cherry, Saskatoon Berry or Black Currant. Priced from $18.95 to $24.95, there is something for all gents' and ladies' tastes.
In addition, we'll have one lovely gift pack also available – a Raspberry Fruit Wine and a Strawberry Dessert Wine, all prettily packaged and also at 15% off.  Don't let your Valentine go without wine!
Perhaps you are not in the market for a Valentine gift, but need birthday gifts this month. What could be better than a lovely packaged dessert wine, produced from 100% Alberta-grown fruit? Join the thousands who are committed to supporting local and giving local this year.
Don't forget that you can also find our dessert wines at many fine retail stores around the province. Our "Field Stone family" of stores continues to grow, and to find a store in your neighbourhood, all you have to do is visit www.fieldstonefruitwines.com/find-us.
Of course the winter months are full of wine events. For anyone who wants to ignore the weather and get out there, there's lots to choose from.
We are very excited about WINEFEST EDMONTON, coming up shortly on February 16th and 17th.  You'll find us at the Shaw Conference Centre, Hall D.   And right on its heels,  February 23rd and 24th, you'll find us at WINEFEST CALGARY, taking place at the BMO Centre, Stampede Park.  Come and taste an inviting array of gourmet foods and wines at two of Alberta's premier shows.   Tickets, times and more information can be found at www.celebratewinefest.com.  So much great food and wine to enjoy… don't miss it!
February 24th will also find us at Alberta Food & Beverage Expo  – MEDICINE HAT.  Sample hundreds of wines, beers, delicious cocktails and the best food from Medicine Hat's best restaurants and local suppliers.  There'll be 120 vendors spread out over the Medicine Hat Exhibition & Stampede Park.  A truly remarkable value at $20 entry fee. You can find more information at www.eatdrinkalberta.com.   Hope to see you there!
Watch for more wine events in the coming months. We'll be there!  Join us at any of our social media sites for up-to-date information.
Finally, in celebration of "Dessert Wine Day", I am offering a few Dessert-Wine-Recipe ideas for a special occasion. With fresh strawberries and raspberries available year-round, you can easily try them all.
First, for the Raspberry lovers:
Raspberry Chocolate Mousse
3 cups (750 ml) fresh or frozen raspberries
½ cup (125 ml) Raspberry Dessert Wine
2 cups (500 ml) chocolate chips, melted and cooled
16 oz (500 g) cream cheese, softened
¼ cup (50 ml) honey
3 Tbsp. (40 ml) Raspberry Dessert Wine
3 Tbsp. (40 ml) white crème de cacao
1 tsp (5 ml) vanilla
Combine raspberries with 125 ml. wine and set aside. Beat together on medium speed the chocolate, cheese and honey. Beat in the 40 ml wine, crème de cacao and vanilla until blended. Spoon the raspberry mixture evenly into 10 small serving dishes and top with the mousse mixture. Garnish with chocolate curls and refrigerate for up to one day. Yum!
And here's a festive twist on the popular summer patio drink:
Raspberry-Champagne Mojito Cocktail
1/2 large lemon – cut in 1/4″ pieces
6 large mint leaves
3 teaspoons sugar
1/2 cup fresh raspberries
3 oz (90 ml) white rum
1 oz (30 ml) Raspberry Dessert Wine
Champagne
Place the lemon, mint leaves and sugar in a mixing glass. Using a wooden spoon, crush the ingredients until the sugar has dissolved and the lemon has released its juice. Add the raspberries and continue to muddle until the raspberries are well mashed and have released their juices. Top with ice cubes, rum and dessert wine. Shake vigorously until very cold.  Strain the mixture into two Champagne glasses. Top with a little Champagne. Garnish with a mint leaf and a fresh raspberry threaded through a cocktail pick. Serve immediately.
Now, for all strawberry lovers, a more "healthy" version of dessert:
Strawberry & Chocolate Buttercream Mousse
1 c. dates
3/4 c. water
1/4 c. cacao powder
2 tbsp. cashew butter
2 tbsp. coconut oil
2-3 tbsp. Strawberry Dessert Wine
2 c. strawberries, washed & sliced
In a blender or food processor, blend all ingredients until smooth. Refrigerate overnight to develop flavours and mousse-like consistency. When ready to serve, top with fresh strawberries. No guilt!
And for those who like it all to be really, really easy:
Super Simple Strawberry Valentine Martini
4 strawberries
1 part vodka
3 parts Strawberry Dessert Wine
Chill martini glasses, and rim with sugar (run a cut strawberry around the rim, then dip in shallow dish of sugar). In a shaker put clean, hulled strawberries in bottom and mash with a wooden spoon until they are very well smashed. Add ice to fill the shaker and add the vodka and dessert wine. Shake for about 20 seconds until well mixed. Pour into the prepped glasses, garnish with a strawberry and serve.
Tip: Serve with your favourite milk chocolate treat on the side, and your sweetie will love you forever.
And that's all for February.
Happy Valentine's, everyone!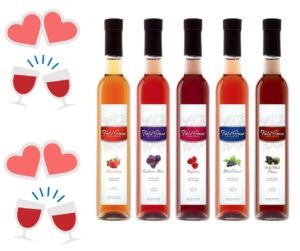 Sign Up For Our Newsletter

Find Articles