The bad news is that when January hits, and the long winter looms ahead, summer seems a faint, distant memory.   The good news is, that here at Field Stone, we continue to bottle up summer every week, and all you have to do to jog your memory, is get out the corkscrew.
I've noticed lately how many events in January are entitled "Wine In Winter."  Exactly what is a good wine for winter?   We're here to suggest that fruit wines, with their vast versatility, are the perfect pairing for January.  Opening up a luscious berry wine transports us back to the fields of July – the colour, the aroma, the flavour as if you were biting into a freshly-picked berry.   Recapturing summer is a great way to enjoy January!
I like to begin by pairing a bright and fresh fruit wine with a comfort food recipe.  Lately, my favourite is an easy slow-cooker version of Moroccan Chicken & Couscous.  Paired with our Cherry Fruit Wine, this has become a cold night favourite.  The robust flavour of Moroccan spices is nicely balanced by the flavourful Cherry.  A winter match made in heaven!
Moroccan Chicken & Couscous
½ c. chicken broth
8 oz. tomato sauce
¼ c. apple cider vinegar
1 T. plus 2 tsp. brown sugar
2 tsp. salt
1 tsp. ginger
1 tsp. cumin
2 tsp. paprika
½ tsp. cayenne pepper
1 T. minced garlic
1 lb. chicken breasts, cubed
1 can chickpeas
¾ dried cherries
4 servings of couscous, prepared with butter, parsely  olive oil.
Place chicken, chickpeas, and dried cherries in the slow cooker.  In a bowl, mix together first 10 ingredients and pour over chicken.  Cook on low 6-8 hours.
Put couscous in a bowl and top with the Moroccan chicken.  It's that easy!
In all honesty, my most-favourite wine in January is always the Strawberry Dessert.  That's because nothing reminds me of summer like strawberries!  Here's my latest way to enjoy it:
New York Cheesecake with Strawberry Compote
400 g. pkg plain digestive biscuits
150 g. butter, melted
750 g. cream cheese, room temperature
215 g. (1 cup) sugar
2 teaspoons finely grated lemon rind
2 teaspoons vanilla extract
3 eggs
185 ml (3/4 cup) thick cream
60 ml (1/4 cup) fresh lemon juice
Preheat oven to 160°C. Line the base and side of a 23cm spring form pan with non-stick baking paper. Process biscuits in a food processor until finely crushed. Add the butter and process until well combined. Transfer to the pan. Use a straight-sided glass to spread and press the biscuit mixture over the base and side of pan, leaving 1cm at the top of the pan. Cover with plastic wrap and place in the fridge for 30 minutes to chill.
Beat the cream cheese, sugar, lemon rind and vanilla in a bowl until smooth. Add the eggs, 1 at a time, beating well after each addition until combined. Beat in the cream and lemon juice.  Pour mixture over the biscuit base. Place pan on a baking tray and bake for 50-60 minutes or until almost set in the centre. Turn off oven. Leave cheesecake in oven, with door ajar, for 2 hours or until cooled completely. Place in fridge overnight to chill. Top with the strawberry compote.
Strawberry Compote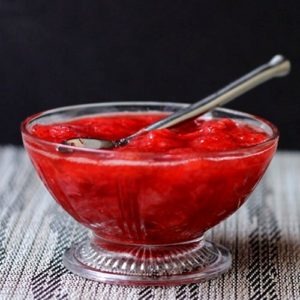 500 gm (1 lb.) strawberries, hulled, halved
250 ml (1 cup) Strawberry Dessert Wine
2 T. sugar
To make the strawberry compote, stir the strawberries, wine and sugar in a saucepan over low heat until the sugar dissolves. Increase heat to medium-high and bring to a boil. Reduce heat to medium-low and simmer for 2 minutes or until the strawberries soften slightly. Set aside to cool completely.
Serve this yummy dessert with a one-ounce glass of the dessert wine on the side.  O my, it's summer!
Another way to capture some summer into your soul during these cold months is to visit a year-round Farmers Market.  Comfortably "tucked-in" at the market, you can enjoy the smell of an apple pie fresh out of the oven, savour a hot chocolate by the fire, purchase fresh veggies and end the day by picking up your bottle of summer to enjoy in the evening.  There's always plenty to love at the market.
Be sure to come by the Calgary Farmers' Market on Saturday, January 20 for "Frosty's Birthday" in support of the Project Warmth Society of Alberta.  Bring a donation of gently used winter clothing, and you'll be eligible for some great prizes.  Lots of great activities taking place for adults and kids, and more information can be found at www.calgaryfarmersmarket.ca.
Of course another great event just around the corner is Valentine's Day!  Watch our Facebook, Twitter and Instagram posts for hints of our Valentine wine special promotion… beginning on February 1.  There is always a wine for your Valentine!
The idea of "Wine in Winter" wouldn't be complete without wine show events.   There are plenty of great opportunites over the next three months to attend a food and wine show, try something new, and sample all your old favourites.  "Field Stone On The Road" begins this Saturday, January 13th with the Lethbridge Food & Wine Expo.  The event takes place at Exhibition Park and boasts over 120 vendors – including food from Lethbridge's best restaurants.  This is always a great night, and great value!  More info can be found at www.eatdrinkalberta.com.  See you soon, Lethbridge!
February will also bring Edmonton and Calgary's premier wine show – "Winefest".  We'll be taking part in both of them this year, so please watch for more details in the February newsletter.
And that's all the news for this month.
Happy January everyone!  Enjoy your "Summer In A Bottle."
Sign Up For Our Newsletter

Find Articles