As I browse the newspaper and some social media sites this morning, I am coming to the conclusion that the chosen buzz-phrase for the beginning of this new year is "Keep It Simple!" No matter what the subject – cooking, clothing, décor, relationships, life-in-general – the undoubtable advice of every headline seems to suggest that simplifying your life will make you happier. Well, then, what about food and drink for January? Let's follow suit and keep it simple!
January finds us finishing and bottling four new batches at the winery.   And, at the risk of sounding biased, they are all delicious! These luscious local berries can make simple meals into something special – all those wonderful summer berries in a bottle are just waiting to be opened up in January! And at the risk of sounding like every other newsletter today, here's three ways to keep it simple…
First off, for those of you who have never paired Raspberry Fruit Wine with a rosemary chicken dish, here's a simplified version to try this month. A well-structured and smooth wine like the Raspberry can accompany poultry without overpowering it. It's a great combination – I hope you try it.
Easy Rosemary Chicken and Potatoes Bake
2 tablespoons olive oil
1 tablespoon paprika
1 1/2 teaspoons rosemary
1 teaspoon sea salt
1/2 teaspoon black pepper, coarse grind
1/2 teaspoon garlic powder
6 bone-in chicken thighs, skin removed (about 2 pounds)
1 1/2 pounds small red potatoes, halved
Preheat oven to 425°F. Mix oil, paprika, rosemary, sea salt, pepper and garlic powder in large bowl. Add chicken and potatoes; toss to coat well. Arrange potatoes in single layer on foil-lined 15x10x1-inch baking pan sprayed with no stick cooking spray. Bake 15 minutes. Push potatoes to one side of pan. Place chicken on pan. Bake 30 to 35 minutes longer or until chicken is cooked through and potatoes are tender, turning potatoes occasionally. Yum!
Serve with a chilled glass of Raspberry Fruit Wine for a simple and delicious treat.
Strawberry Dessert Wine? As I've mentioned many times before, I love strawberry wine in January most of all – it takes me back to summer like nothing else!  We had a wonderful crop of strawberries this summer…. on plants that were only planted in May!  These deep-flavoured berries make delicious meals deliciously easy.
Simple Strawberry Sauce
1 lb. strawberries, sliced, fresh or frozen
¼ cup sugar
¼ cup Strawberry Dessert Wine
½ lemon, juiced
Combine all the ingredients in a small pot over medium heat. Simmer over medium low heat 10 minutes. Serve warm or cold over chocolate cake or angel food.
Serve with a small glass of chilled Strawberry Dessert Wine.
And that brings us to Cherry Fruit Wine. I personally love the Cherry paired with pork dishes that have a slightly sweet sauce.
Slow Cooker Cherry Pork
1 boneless pork loin roast (3 to 4 pounds)
1 teaspoon salt
1/2 teaspoon pepper
1 tablespoon canola oil
3/4 cup cherry preserves
1/2 cup dried cherries
1/3 cup balsamic vinegar
1/4 cup packed brown sugar
Sprinkle roast with salt and pepper. In a large skillet, heat oil over medium-high heat. Brown roast on all sides.
Transfer to a 6-qt. slow cooker. In a small bowl, mix preserves, cherries, vinegar and brown sugar until blended; pour over roast. Cover and cook on low 3-4 hours or until tender. Remove roast from slow cooker; tent with foil. Let stand 15 minutes before slicing.
And be sure to enjoy with chilled Cherry Fruit Wine!
And if you'd actually like to venture outside the house this month, we're happy to tell you that many winter events are coming up.
Next Saturday, January 17, you'll find us at Exhibition Park Lethbridge for the 7th annual Southern Alberta Food & Beverage Expo. This will be the biggest show to date, and tickets are available at Brown's Socialhouse South and West, South Country Co-op Liquor Stores, and Exhibition Park South Pavilion Office. Only $20! The show promises 150 vendors, 2 pavilions and hundreds of wines, beers, spirits, hand crafted cocktails, and food samples from Lethbridge and Southern Alberta's best restaurants and food suppliers. Don't miss it! You can find more information at www.facebook.com/events/268694473791367.
Over at Calgary Farmers Market, we're happy to be part of Frosty's Birthday on Saturday, January 19th, from 10 am- 2pm.  Join us for some wintery indoor fun … Bring a donation of gently used winter clothing to ensure everyone stays warm this winter and receive a voucher to decorate a 3-bite Jelly Modern Doughnut. Our ice sculptor will be chiseling away at giant ice blocks and creating one-of-a-kind frozen creations outside our northeast entrance and Calgary's favorite magician, Christopher Cool, will be here with a fun Frosty magic show too.   Frosty will be roaming all around the market, so catch him if you can for the perfect selfie.  Fun for all and free tastings at the Field Stone booth.  We'll have our ever-popular Mulled Cherry Wine available for tasting…a  favourite not only at Christmas, but also the perfect "any-month", winter-activity drink for Alberta's long snowy season!
There will be many more events coming up in February… watch for event news at any time on our social media pages. Watch also for our Valentine's special coming up soon. There is always a wine for your Valentine…
And that's all the news for this month.  January is a very busy month in the winery – pressing fruit, wine being made, trucks arriving with bottles and supplies, bottling crews on site, you name it. Fruit Wine is an all-season event!  Thanks for being a part of it.
Happy Winter, everyone!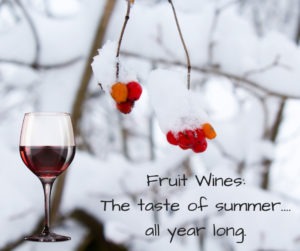 Sign Up For Our Newsletter

Find Articles