I don't know about you, but once January hits, I like to hibernate. After the hustle and bustle of the holidays, with all its preparations, fancy foods and accompanying hype, I like to think simple. Simple preparation, simple food, simple drinks. Apparently this is a common practice among Canadians in January. It's the time we return to our "comfort foods." Let the weather rage if it must. We and our comfort foods are just fine, thank you.
In a recent survey, a popular food website found that the top 25 comfort foods haven't changed much in recent years. Near the top are all the favourites of our childhood – grilled cheese, meatloaf, roast chicken, stew – you get the picture. As I started to think about "wine in winter" today, it occurred to me how well our five fruit wines accompany some of the top comfort foods. Their unique characteristics qualify them for some great pairings. So today I am offering five simple ideas for winter meals paired with a fruit wine. The recipes contain some modern updates on Grandma's recipes however, adding flavours that marry well to our wines' characteristics.
Black Currant Fruit Wine with Classy Stuffed Meat Loaf
1 large red bell pepper
2 Tbsp olive oil
3 ounces fresh baby spinach
2 medium onions, chopped
2 Tbsp minced garlic
2 cups fresh breadcrumbs
2 large eggs
1/2 cup chopped fresh basil
6 Tbsp ketchup
2 Tbsp chopped fresh thyme
2 Tbsp Dijon mustard
1 Tbsp prepared steak sauce
1 1/2 teaspoons salt
1/2 teaspoon ground black pepper
2 pounds ground veal
Broil red pepper until blackened on all sides. Wrap in paper bag and let stand 10 minutes. Peel, seed and slice pepper into 1/2-inch-wide strips. Preheat oven to 350°F. Heat 1 Tbsp olive oil in heavy large skillet over medium-high heat. Add spinach and toss until just wilted, about 2 minutes. Transfer spinach to small bowl. Add remaining olive oil to skillet, then onions and garlic; sauté until onions are tender, about 5 minutes. Transfer onion mixture to large bowl. Stir breadcrumbs, eggs, basil, ketchup, thyme, mustard, steak sauce, 1 1/2 teaspoons salt and 1/2 teaspoon black pepper into onion mixture. Mix in veal. Place half of veal mixture in 9 x 5 x 3-inch metal loaf pan. Using back of spoon, make 1-inch-wide, 1/2-inch-deep canal lengthwise down middle of loaf. Lay half of red bell pepper strips in canal. Layer with spinach and remaining bell peppers. Fill pan with remaining veal mixture, pressing firmly.
Bake meat loaf until brown on top and thermometer inserted into center registers 160°F, about 50 minutes. Let cool 15 minutes.
(We love Black Currant's delicate flavour matched to delicate-flavoured beef and veal dishes).
Cherry Fruit Wine with Slow Cooker Moroccan Pork Stew
½ cup chicken broth
8 oz tomato sauce
¼ cup apple cider vinegar
1 Tbsp and 2 tsp brown sugar
2 tsp salt
1 tsp ginger
1 tsp cumin
2 tsp paprika
½ tsp cayenne pepper
1 Tbsp minced garlic
1 pound ground pork
1 can chickpeas
¾ cup dried cherries
Saute pork in olive oil, then transfer to slow cooker. Add chickpeas and dried cherries.
In a bowl, mix together first 10 ingredients. Pour over slow cooker ingredients.
Cook on low heat, 6-8 hours. Serve over cooked couscous. You can top with a little sour cream, if you like.
(We love Cherry's robust flavour matched by dried cherries with exotic spices).
Bumbleberry Fruit Wine with Spicy Pizza-Pasta Casserole
1-1/2 cups dry whole wheat fusilli
1 jar tomato and basil pasta sauce
1/4 cup chopped onion
2 cloves garlic, minced
1 tsp dried oregano
2 spicy Italian sausages
1 cup sliced mushrooms
2/3 cup grated Tex Mex cheese
2 pepperoni sticks, sliced
Spray a skillet with olive oil and heat over medium heat. Squeeze sausage out of casings into the skillet. Cook sausage with the onion, garlic, and oregano until sausage is no longer pink.
Meanwhile, cook pasta in boiling water until al dente. Drain water from pasta and set aside.
Spray an 8 x 11 pan with olive oil. Cover the bottom of the pan with a thin layer of pasta sauce. On top of the sauce, add 1/3 of the pasta, 1/3 of the sauce, 1/3 of the mushrooms, and 1/2 of the sausage mixture. Make two more layers. Top with the pepperoni and sprinkle with cheese.
Bake at 375F for approximately 45 minutes.
(We love Bumbleberry paired with pizza…. Here's a winter casserole with similar spicings.)
Raspberry Fruit Wine with Savoury Roast Chicken
1 roaster chicken, about 4 pounds
1/2 cup chopped onion
1/4 cup butter
12-15 prunes, soaked in ½ cup of Saskatoon Dessert Wine overnight
1/2 teaspoon thyme
½ teaspoon rosemary
2 tablespoon chopped fresh parsley, or 2 teaspoons dried parsley flakes
2 cups soft bread crumbs
1 beaten egg
1/3 cup milk
salt and pepper
In a skillet, melt 1/4 cup butter over low heat; saute chopped onion for 3 minutes. Combine all ingredients and spoon stuffing into cavity of chicken. Rub chicken with butter and sprinkle with rosemary. Place chicken breast side up on rack in a shallow roasting pan. Roast at 375° for about 60 to 70 minutes, basting several times. Internal temperature should register 175° when done. Let chicken stand for about 15 minutes before slicing.
(We always recommend Raspberry with Grilled Rosemary Chicken. Here's a similar pairing for the oven instead of the grill.)
Strawberry-Rhubarb Fruit Wine with Pear & Gouda Grilled Cheese
4 slices country-style bread
1 Tbsp melted butter, or olive oil
1 Tbsp Dijon mustard
4 ounces Gouda, grated
1 pear, thinly sliced
1 cup baby arugula
Brush one side of each slice with butter or oil. Form sandwiches (buttered side out) with the mustard, cheese, pear and argula. Heat a large nonstick skillet over low heat.Cook the sandwiches, covered, until the bread is golden brown and cheese has melted, about 4-5 minutes per side.
(We often recommend Strawberry-Rhubarb paired with gouda cheese…. Here's a way to have it for lunch!)
In other news this month, our winemaking continues with a new batch of Bumbleberry Fruit Wine and Saskatoon Berry Dessert Wine now in the bottle.  If these are your favourites, you have no worries!  We are back on the shelf in our market locations this week.
And speaking of market locations, our Edmonton Bountiful Market location will be  changing its hours for the months of January, February and March.  Effective immediately, we will be open Fridays and Sundays from 10am to 4pm, and Saturdays from 9am to 5pm.  But don't worry – the hours are the only change.  All the excellent products and service at this wonderful indoor market remain the same!  You'll find everything you need for great 'comfort food' meals and great wine to accompany them.
Over at Calgary Farmers Market, we'd like to bring your attention to "Share The Warmth" Saturday.   To ensure everyone stays warm this winter, please visit the market on January 25th and bring a new winter clothing item/accessory or a $5.00 cash donation for "Inn From The Cold."  In exchange you will receive a voucher to decorate a 3-bite Jelly Modern Doughnut.  You'll want to take in all the activities of the market that day, support your favourite vendors, and contribute to a great cause at the same time.   
Afterwards, be sure and stop by the Field Stone booth and pick up your supply for Wine In Winter. So many possibilities…
Happy January, everyone.  Let the comfort food begin.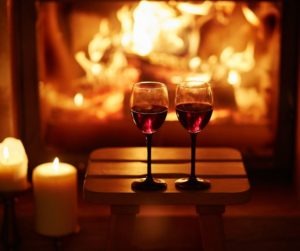 Sign Up For Our Newsletter