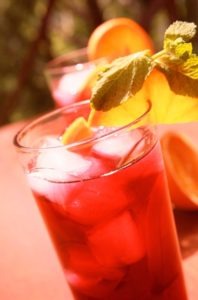 Have you looked?  It's already July!
At the risk of dating myself, I'm remembering the 1969 TV Special, "It Was a Short Summer, Charlie Brown." There's a memorable scene where the boys are sitting around the campfire, bemoaning their sad summer.  It has not gone how they expected it to.
Perhaps this is a good reminder that here in Alberta, the summer is also short.  Consequently, it needs to be grasped with gusto, shaken into submission and wrung out til every possible enjoyable moment has been extracted.  Of course the enjoyment of summer means different things to different people, but there's little doubt that many enjoy the simple things:  lots of sunshine, warm evenings, simple summer meals, and cool summer drinks on the patio.
If you've been following us on social media recently, you may have already seen some posts about patio drinks made with fruit wines.  As we like to say, "With Fruit Wines, the possibilities are endless."  And so, in keeping with that theme, I thought I'd share 10 more fun ideas on how to enjoy Field Stone wines in the summer heat.  Pull up that deck chair!
Berry Lemonade Summer Cocktail   (What else says 'summer' like lemonade?)
1 oz. Saskatoon Berry Dessert Wine
3 oz. lemonade
Fill glass with ice and lemon slices.  Mix all ingredients together and pour over the ice.
Cheery Cherry Sangria   (An excellent choice while all those cherries are available!)
1 bottle (750 ml) Field Stone Cherry Fruit Wine
¼ c. sugar or apple juice concentrate (opt)
1 c. orange juice
½ lemon, sliced
½ lime, sliced
2 shots Wild Black Cherry Dessert Wine
½ liter club soda
Mix together and chill. Add club soda just before serving.
Strawberry-Rhubarb Popsicles   (Finally, an adult popsicle!)
¼ c. water
¼ c. sugar
2 Tablespoons lemon juice
1 lb. fresh strawberries
1 cup Strawberry-Rhubarb Fruit Wine
Bring water, sugar & lemon juice to a boil; boil for 5 minutes.  Let cool.
Cut up the strawberries and slightly puree them.  Combine with simple syrup and fruit wine.  Stir slightly.  Pour into popsicle molds and freeze overnight.
Chokecherry Crantini   (A little bit dry, a little bit sweet, a little bit of a bite…)
1 part Vodka
1 part Cranberry juice
1 part Wild Black Cherry Dessert Wine
1 splash of Lime Juice
Pour ingredients into a shaker with cracked ice and shake well. Strain into chilled  martini glasses.  Garnish with a lime twist.
Raspberry Cooler Martini    (A kind of adult lemonade in a martini glass..)
2 parts Raspberry Dessert Wine
1 part Vodka
2 parts Pink Lemonade
Pour ingredients into a shaker with cracked ice and shake well. Strain into chilled martini glasses.  Garnish with raspberries.
Kir Royale Sangria    (Not too sweet… just right!)
1 bottle Black Currant Fruit Wine
3/4 cup Black Currant Dessert Wine
1 tablespoon simple syrup
1 cup sparkling water
2 cups frozen mixed berries, straight from the freezer
Combine all in a large pitcher with ice. Serve immediately.
  Pop's Popular Popsicle   (Perfect for a 30 degree day…)
1 bottle Bumbleberry Fruit Wine
½ cup simple syrup
½ cup orange liqueur (can substitute orange juice)
2 lemons
2 cups mixed berries
Combine wine, simple syrup and orange liqueur in pitcher.  Juice 1 lemon into the pitcher. Slice & halve the other lemon and add with the berries.  Pour into 3-ounce paper cups and freeze for 2 hours til it starts to ice over.  Insert popsicle sticks and freeze overnight.  Carefully peel away the paper and eat immediately!
  Raspberry Wine Slushie   (Who doesn't love a slushie?)
2 cups raspberries
1 bottle Raspberry Fruit Wine
1 Tbsp. lemon juice
2 Tbsp. sugar
Puree the raspberries, wine, juice & sugar. Pour into an ice cream maker and process according to manufacturer's directions.  Scoop out of the freezer bowl and place in container to store until ready to drink.  Allow to thaw to slushy consistency before serving.
  Strawberry Spritzer   (So easy, so yummy and so summery…)
4 oz. Strawberry Dessert Wine
2 oz. club soda
Fill a glass with ice and add wine & soda.  Garnish with a fresh strawberry.
Strawberry and Rhubarb Sangria    (For all you rhubarb lovers…)
¼ c. sugar
½ c. water
2 rhubarb stalks, chopped
½ c. orange juice
1 orange, sliced
1 pint strawberries, quartered
4 cups chilled seltzer
1 bottle Strawberry-Rhubarb Fruit Wine
In small pan, combine sugar and water, bring to a boil and add rhubarb.  Set aside and let cool.  Combine all other ingredients, then add rhubarb mixture.  Serve over ice.  Yum!
Of course, these are just a few of the many patio possibilities:  the list is as long as your imagination!
I hope these fruity recipes help you with your summer relaxation.  If you have any variations that have worked well for you, I'd love to hear about them!   And you can always find more at www.fieldstonefruitwines.com.
It goes without saying that Field Stone products are now closer to you than ever before.  In addition to the 18 seasonal farmers' markets we are attending this summer, we continue to add new retail stores.  An updated list can be found at any time on www.fieldstonefruitwines.com/find-us.  Please help us help support all our new retailers!
Thanks to all who have already come out to the seasonal markets around the province this summer.  If you haven't visited one yet, check out our list on the Find Us page, and plan to take one in.  We continue to offer some great deals at the markets each week.  As well we have "Stampede Fever" starting in Calgary, and we'll have our "Stampede Special" at Calgary Farmers Market for the duration of the event, starting this Friday.  (Mention your newsletter to receive an extra 5% off our Stampede Special.)
And as always, join us on Twitter (@FieldstoneFruit), Instagram and Facebook to keep abreast of new markets and new promotions all summer long!
Summer just can't be beat.   Warm weather, sunshine, farmers markets, seasonal fruits, garden bounty.  Just add patio-perfect, award-winning, Alberta fruit wines, and stir.
Happy July, everyone.  Let the relaxation begin.
Sign Up For Our Newsletter

Find Articles