As the Broadway song so aptly describes it, "June is bustin' out all over!"
Here at Field Stone, June means that more seasonal markets are bustin' out, and that means Alberta's best-loved fruit wines move even closer to your door.   Do you love outdoor markets?   As we told you in last month's newsletter, almost every day of the week, we can be found offering free tastings of our great summer wines in some part of the province, maybe even in your neighbourhood.   We are now up and running in every one of them.
We hope you make visiting a market a regular part of your summer's activities this year.  All the excellent markets offer exceptional Alberta products and interesting growers, farmers, makers, bakers, and artists.  There are weekly events too numerous to mention, for every member of the family to enjoy.   You won't be disappointed if you #ShopLocal!
Of course, June is also bustin' out with Father's Day celebrations.   And what is the perfect gift to accompany those celebrations?  Well, in our humble opinion, that would be Field Stone's Wild Black Cherry Dessert Wine!  Crafted from 100% Alberta chokecherries, this port-styled, fortified dessert wine is a perfect after-dinner drink for Dad, with a uniquely rich and complex flavour.  However, if you are serving Daddy-O on the patio, you may want to consider shaking it up into a martini, a wine spritizer, adding to fresh lemonade, or serving it over ice.  No matter how you present it, Wild Black Cherry Dessert Wine is a sure winner on Father's Day.
Here's just one great way to serve it up: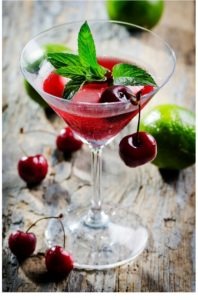 Wild Cherry Crantini
1 part Wild Black Cherry Dessert Wine
1 part vodka
1 part white cranberry juice
Mix together in a shaker with crushed ice and shake well. Strain into chilled martini glass and garnish with a cherry!
As an added bonus, at Calgary Farmers Market this weekend, we will be offering 15% off each bottle.  A great time to try it!
The winery is bustin' out this month with the opening of our On-Site Wine Store.  Feeling like a leisurely drive in the country?  Come on out for free tastings on Saturday or Sunday, between 11 and 5.  You'll want to enter our draw for a half case of wine – to be drawn at the end of the season.
And our biggest-of-all BUSTIN' OUT NEWS?   Our Grand Opening on June 21st to 23rd at the brand new, multi-day, year-round Edmonton market known as BOUNTIFUL!
If you haven't heard, Bountiful Farmers Market is Edmonton's newest market experience.  Clean, bright and modern, this European-style market boasts 46,000 square feet of excellence in Alberta products.  Open three days a week at 3696 97 Street, with free parking and easy access from major routes like Whitemud, Henday and Gateway, Bountiful is easy to find and easy to access.  Starting June 21st, you find us there on Fridays, Saturdays and Sundays, between the hours of 9am and 5pm .  We're so excited to be a part of it.
We hope you'll join us on Grand Opening Weekend.  There will be dancing, drumming, cultural showcases, local music spotlights, workshops and more on the main stage. There will be a family play area, arts and crafts, and great activities for the kids.  There will be hourly draws for great prizes from Bountiful vendors and three amazing grand prizes you won't want to miss!
An added bonus….Mention this newsletter for a 15% discount on any size purchase at the Field Stone Booth on Grand Opening Weekend.  You'll find us at Booth D2…. And we hope to see you there!  You can find more information at www.bountifulmarkets.com.
Of course, with the warm weather, you can also find great stock of our products in your favourite liquor stores.  A list is available any time at www.fieldstonefruitwines.com/find-us.
And finally, now that it's officially summer, we think it's time to bring out the 'hot-day' summer drinks. One of our favourites:  the Strawberry-Rhubarb Wine Slushie.  Who doesn't love a slushie?  Have you seen all those strawberries at the markets already this season?  Add some wine – it doesn't hurt them one bit!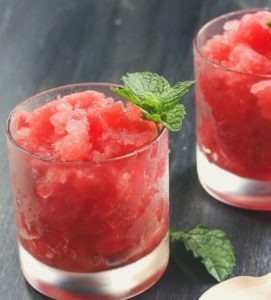 2 cups strawberries
1 bottle Strawberry-Rhubarb Fruit Wine
1 tablespoon lemon juice
Process in blender.  Pour into a shallow pan and freeze for 30 minutes.  Flake with a fork.  Repeat three times.  Divide into glasses.  Let thaw til slushy consistency before serving.
It's that easy!
Watch our Facebook, Instagram and and Twitter feed all summer long for many more wonderful summer drink recipes.  As we say around here, "With Fruit Wines, the possibilities are endless"!
And that's all for June!  Whatever you do to bust out this month, we hope it includes the delicious tastes of Field Stone fruit wines.
Sign Up For Our Newsletter

Find Articles