You may remember the quote from your high school English days: "Beware the Ides of March".  Rather depressing, it always seemed to me.
In my mind, the Ides of March should rather be well-celebrated in this country because it means that the First Day of Spring is just around the corner! Yesiree Bob. Soon it will be March 20th, the Alberta weather forecast is for a warm and sunny month, and the Vernal Equinox delivers again. What's not to celebrate?
Here at the winery, the signs of Spring are emerging.  The yard has mud everywhere.  Well ahead of schedule, the gophers are starting to venture out in the fields.  A visiting giant-sized, red-headed woodpecker, normally a forest bird, ventured out here to the prairie, obviously desperate to find a Spring mate.  Even our winery dog, Chase, has decided it's finally safe to venture out of the house and spend an afternoon in a sunny spot on the patio.
Spring brings its fair share of activities in the winery.  Perhaps you saw our Facebook video last week, highlighting the 9000 pounds of Alberta fruit we had thawing – its very first step to becoming the wine in your summer glass.  1600 pounds of strawberries, 4500 of saskatoon berries,  1200 of red cherries, 700 of rhubarb, 700 of black currants and 300 of raspberries  – an unusually large amount of fruit to be processing at one time!   It was quite the sight.  We have since made it through the pressing stage, and the fermentation of all the batches has now started.  Without doubt, the farm-to-glass process is never boring!
Spring also brings its fair share of wine events.   Thank you to the many, many of you who came out to Winefest in Calgary, and to Alberta Beverage Expo in Medicine Hat this past weekend. Thousands of Albertans joined in the tasting fun and were treated to literally hundreds of delicious wine and food options.  Thank you all for stopping at our booth!
We have one more Spring event coming up in Calgary and that is the Spring GRAPE ESCAPE, taking place March 25th in Calgary. Be sure and take in Calgary Co-op's signature tasting event at the BMO Centre beginning at 5pm and running through til 9. Sample a wide variety of wine, spirits, and beer from around the world, along with a collection of Calgary's best food trucks. We are excited to be there!  Tickets are $65.00 and are available now at www.coopwinespiritsbeer.com.  See you there.
Spring has brought its fair share of events to the farmers markets as well.   Over at Calgary Farmers Market, March 11th brings the opportunity to sign up for apple pie making. (Yes, you get to take the pie home).  On March 17th,  St. Patrick's Day will bring a performance by Coshquin School of Irish Dance, as well as other entertainment and children's activities.  You can find more information at www.calgaryfarmersmarket.ca.
As part of the CFM celebration, we'll be having a "St. Patrick's Day Special" all weekend (March 16-19).  You can pick up any two table wines for 10% off – your choice!  They may not be green, but the flavours will remind you that spring (and eventually summer) are on their way.
[PS:  As St. Patrick's Day approaches, let's not think "green" for just one day, but let's recommit to live green, year-round. It's never been a more important time to consider our own part in the earth's protection.  Local. Sustainable. Craft. Great concepts for shopping and living "green."]
Finally, Spring has brought us many newcomers to the Field Stone family of retailers.  There are too many to list this month, so be sure and check it out yourself at the website.   It has never been easier to find your favourite fruit wine.  We are so grateful for all the fine stores that continue to come on board with us.
So, in honour of impending Spring, I thought I would offer a little celebratory drink idea this month.  If you've been on a tropical holiday this winter, you probably encountered a mojito somewhere along the way.  Here's an Alberta twist on that favourite:
Raspberry-Champagne Mojito Cocktail
1/2 large lemon – cut in 1/4″ pieces
6 large mint leaves
3 teaspoons sugar
1/2 cup fresh raspberries
3 oz (90 ml) white rum
1 oz (30 ml) Raspberry Dessert Wine
Champagne
fresh mint as garnish
fresh raspberries as garnish
Place the lemon, mint leaves and sugar in a mixing glass. Using a wooden spoon, crush the ingredients until the sugar has dissolved and the lemon has released its juice. Add the raspberries and continue to muddle until the raspberries are well mashed and have released their juices. Top with ice cubes, rum and dessert wine. Shake vigorously until very cold.
Strain the mixture into two Champagne glasses. Top with a little Champagne.  Garnish with a mint leaf and a fresh raspberry threaded through a cocktail pick. Serve immediately.  Cheers!
And if you'd like a little "Spring Appetizer" to serve alongside, try this one:
Warm Brie with Raspberries & Almonds
1/2 Cup natural sliced almonds
1/4 Cup honey
1 Tsp. balsamic vinegar
1/2 Tsp. finely chopped fresh thyme
2 Tbsp. Raspberry Dessert Wine
170 gm (6 oz) fresh raspberries
Large wheel of ripe Brie, chilled, top rind sliced off
Water crackers or baguette slices for serving
Preheat oven to 350°F. Spread almonds on a rimmed baking sheet. Bake, stirring occasionally, until lightly toasted and fragrant, 6 to 10 minutes. Transfer to a plate.
Meanwhile, place Brie on rimless baking sheet. Bake until warm and the top is softened, but not until cheese is oozing, about 15 minutes. Slide cheese onto serving platter. Stir honey, vinegar, wine and thyme together in skillet and cook over medium heat til slightly reduced. Gently fold in raspberries and almonds with a rubber spatula.  Pour raspberry mixture over warm cheese. Serve at once, with crackers for spreading.  O, yum!
And that's it for March.
Happy Spring, everyone!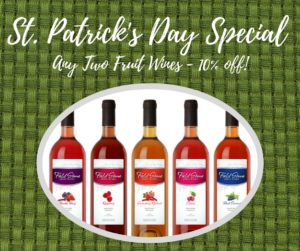 Sign Up For Our Newsletter

Find Articles