In case it's gotten by you, let me declare the obvious:  it's already March!  Which means that, believe it or not, St. Patrick's Day is almost upon us.  Interestingly enough, because it began as a religious holiday, in times gone by this day was known as the 'Feast of St. Patrick' and the celebration centered around religious events and a great feast.  It goes without saying that I always like a sentence with the word "feast" in it.
One dictionary defines feast as "A meal that is well prepared and abundantly enjoyed."  In my world, that definition would include "and doesn't take too long to do."  With that in mind, I am once again including my foolproof and fast traditional Irish Lamb Stew recipe for St. Paddy's Day. You'll want to serve this hearty stew with our chilled Cherry Fruit Wine for a lovely pairing.
There's nothing like Cherry for Spring sipping!  As you're enjoying these delicious flavours, you can visualize the cherry blossoms, popular harbingers of Springtime in many parts of the world…
Traditional Irish Lamb Stew
3 to 4 lbs leg of lamb, cut into 1 1/2″ cubes
2 tablespoons butter
1 tablespoon vegetable oil
2 cups water
1 cup chicken broth
1 teaspoon salt, or to taste
1/2 teaspoon thyme, crushed
1/4 teaspoon pepper
2 cloves garlic, mashed & minced
4 medium potatoes, quartered
8 small white onions, peeled
1 1/2 cups frozen peas
8 ounces fresh mushrooms, sliced
1 cup milk
1/3 cup flour
Over medium heat, brown lamb in butter and oil in a large pot. Add water, broth, and seasonings; cover and simmer for 1 hour. Remove surface fat. Add potatoes and onion; simmer, covered, until vegetables are tender, about 15 to 20 minutes. Add peas and simmer for 5 minutes. Combine milk and flour; stir until smooth. Add to simmering stew and simmer for about 1 minute, or until thickened. Taste and adjust seasonings. Serves 6.
Enjoy!
As always, March brings lots of activity in the winery.  Today we have 1500 pounds of saskatoon berries thawing in anticipation of our next releases.  600 pounds of rhubarb is thawing alongside, as well as 1800 pounds of raspberries.  In addition, 2500 litres of Black Currant Fruit Wine is ready in Tank 3 and awaiting bottling next week.   So much fruit wine on the horizon!  Isn't Spring wonderful?
In events this month, one of our favourite wine shows – Co-op's GRAPE ESCAPE  – takes place on March 23 at the BMO Center in Calgary.  This popular event will be bigger and better than ever with more than 100 booths and thousands of products to sample.  Grab some friends and come taste your way through wonderful wines and foods!  Tickets and more info can be found at www.coopwinespiritsbeer.com.  Hope to see you there!
Looking ahead to April, please save the date for the Alberta Food and Beverage Expo – RED DEER!  Saturday, April 6th you'll be able to sample wines, spirits, craft beers, cocktails and amazing food from Red Deer's best restaurants, pubs and local food suppliers. The event will take place at Westerner Park in the Prairie Pavilion from 5 to 9.  More information at www.eatdrinkalberta.com.  We're excited to be there!
Also on April 6th, you'll find us at the Crossfield Farmers Market Spring Market!  Don't you just love thinking about Spring?  Come on out to Crossfield Community Center from 10 til 4 and enjoy over 100 vendors.  Admission is free and food bank donations are accepted.  You can find more information at www.facebook.com/crossfieldfarmersmarket.
And finally, to finish off with one more "Spring" thought this month:  For those of you who just can't resist toasting the first day of Spring (March 20th, for all you who don't keep track), here is one of my favourites.  It's just heavy enough to accompany the last bit of winter weather, but fruity enough to remind us that Spring is right around the corner:
Cherry Velvet Martini
1 part Vodka
3 parts Field Stone Wild Black Cherry Dessert Wine
1 part Kahlua
1 part ½ and ½ cream
Pour ingredients into a shaker with cracked ice and shake well. Serve in chilled martini glasses.
Garnish with a cherry.
Just one more word:  Yum!
Happy Paddy's, and Happy Spring, everyone!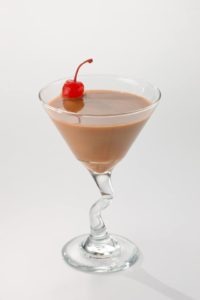 Sign Up For Our Newsletter

Find Articles