I have to admit that May is my favourite Newsletter.  Regardless of the weather, I always feel like the merry, merry month of May is the beginning of summer.  The beginning of the growing season.  The beginning of the summer farmers markets.  The beginning of the patio season.  These are exciting days for we winter-weary prairie people!
Today, we are prepping for new raspberry plants, as we traditionally plant new seedlings around Mother's Day each year. (Watch for pictures on social media.) We're expecting a delivery of 1500 new Double Delight Raspberry plants any day now, and we're "delighted" to be transitioning our field to this "delightful" large fruit with a sweet, tangy taste.  The field equipment is getting tuned up, the weeds are waiting and the mud puddles are drying up.  It's definitely looking different out there. Stay tuned for the progress!
Another sure sign of May is that the winery is getting ready to open for the summer.  Saturday, June 3rd will be our official opening day.  The wine-store will remain open throughout the summer right through to September 3rd. You can come by for tastings Saturdays or Sundays from 11am to 5pm.  We'd love to see you this season and we're conveniently located just 10 kilometers south of the Strathmore Esso on Highway 817:  A pleasant drive in the country with free wine tasting at the end.  We hope you fit a visit into your summer plans.
Also opening this month are eight of our seasonal farmers markets.  To my mind, nothing says "summer has begun" like outdoor markets.  And we are super-excited to be appearing at some new markets for the first time ever!  This month, you can find us at:
Bentley Farmers Market.  Opening Saturday, May 20 at the Curling Rink parking lot.  So happy to be returning to this popular, action-packed market. Hours are 1:30 – 3:30.
Hillhurst Sunnyside Market.  Opening Wednesday, May 17 in the park at 1320 5 Avenue NW,  Calgary.  After several years, we are looking forward to returning to this long-time Calgary favourite. Hours are 3:00 – 7:00 pm.
Medicine Hat Farmers Market.  Opening Saturday, May 20 at the Cypress Center.  Lots of great activities happening in conjunction with the opening market this year – keep reading for more information.  Hours are 9 to 1.
Olds Farmers Market.  Opening Thursday, May 25 at the Cow Palace parking lot.  We are thrilled to be returning to Olds after a couple of years' hiatus.  Hours are 3:30 – 6:30.
Red Deer Downtown.  Opening Wednesday, May 31 on Little Gaetz Avenue.  This popular right-in-the-heart-of-downtown market is so much fun – come visit your farmer right on main street.  Hours are 3:30 – 6:30.
Rimbey Farmers Market.  Opening Saturday, May 20, Paskapoo Historical Park.  Again, we are happy to be returning to Rimbey after a break. Looking forward to seeing all our Christmas customers there.  Hours are 9:30 – 11:30 am.
Sylvan Lake Farmers Market.  Opening Friday, May 19 at 5104 Lakeshore Drive.  Excited to set up at our new location this year, adjacent to the lake.  Hours are 4:00 – 7:30.
And, last but not least, we are starting this month at our first EDMONTON market!  Please come and say hello to us at the Edmonton South Common Market, starting on May 20.  Hours are Saturday, 10-4 and Sunday, 10-4.  Conveniently located at Gateway Blvd. and 23rd Avenue, this is a market with something for everyone.  We're very excited about this new venture, and hope to see you there.
So how do we know summer is here?  These markets are all outdoors!  And there's lots of sunshine in the forecast.  We look forward to seeing you at one of them.
As more of our seasonal markets start up, we'll keep you posted on the website and social media.  You can always find a complete list of dates and times at www.fieldstonefruitwines.com/find-us.
And of course, what would May be without the Spring food and wine events?  There are some really great ones this month!
Canmore Uncorked. We are looking forward to being part of this wonderful food and drink festival this weekend in Canmore.   You'll find us on Saturday, May 6 at the Wine Tasting Festival from 2 -6pm at the Canmore Golf & Curling Club.  If you need a mountain fix, here's your excuse!  For more information, check out canmoreuncorked.com. Many, many great events on this week in the Rockies.
Medicine Hat Sunshine Skillet. This year the Farmers Market will take place in conjunction with the Sunshine Skillet culinary competition.  Medicine Hat's premier food event will take place on Saturday, May 20 at the Cypress Centre.  You'll be able to browse the market and take in all the cooking competitions while only parking once!    We're also thrilled to have Field Stone products at the premier event – the Sunset Dinner.  You can find all the information at  facebook.com/MHskillet.   Don't miss it!
And last but not least, we come to that other wonderful celebration in May – MOTHER'S DAY!
Don't forget mom on her special day.  To help you with the perfect gift, we are offering a beautiful gift pack of one Raspberry Fruit Wine and one Strawberry Dessert Wine for 10% off at our Calgary Farmers Market booth this weekend and next.  Give mom the flavours of summer and remind her how special she is.  Local, sustainable, farm to glass…give the gift of craft this year.  She may even share them with you!
And one reminder:  With summer approaching, stocking up with great summer wines is easier than ever!  You can find a list of stores anytime at www.fieldstonefruitwines.com/find-us.  Look for one in your neighbourhood.
So, that's what WE'RE doing this month.  What about you'all?  If you haven't already made some plans, here's three suggestions for celebrating the first month of summer:
Pencil in some patio time.   The four signs of summer:  pulling up a lawn chair, pulling out a favourite book, un-corking a fruit wine and enjoying the sunshine.  It's so simple!
Visit a market.  In addition to the outdoor market activities, indoor ones like the Calgary Farmers Market are gearing up for summer.  The produce is looking different, the flowers are more beautiful than ever, the activities have "warm weather" written all over them.   Lots to do, and some great wine to be picked up at the Field Stone booth!
Serve some Sangria.  Having guests on the May long weekend?  Think about plunging into summer with both feet and serving up some sangria.  With a nod to the cherry blossoms of the season, how about this one: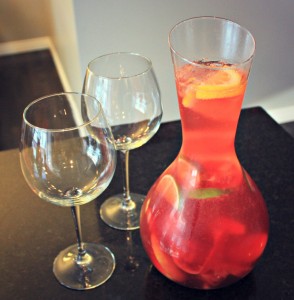 Cheery Cherry Sangria
1 bottle Cherry Fruit Wine
4 shots Wild Black Cherry Dessert Wine
1 lemon
1 lime
1 peach, sliced
12 cherries, pitted and sliced
1 can club soda
 Add the juice of one half of the lemon and one half of the lime to the pitcher.  Slice the peach, slice and pit the cherries, slice the other halves of lemon and lime and add to the pitcher.  Add wines and chill for at least an hour.  Add club soda just before serving.
Doesn't Sangria have that unique ability to kick winter far, far from our memories?
And that's all the news for this month.
Happy May, everyone!  Let the summer begin.
Sign Up For Our Newsletter

Find Articles