Pencil in some patio time!  The Victoria Day long weekend is on the horizon.
We're told that Queen Victoria wrote an average of 2500 words per day during her adult life. I'm going to take substantially fewer words to suggest how you can make the merry, merry month of May even merrier.
1) Celebrate the first long weekend of summer. Whatever you are doing on your long weekend, remember to make merry. Not able to leave town? Have a few friends over to the patio and serve something special. I always associate May with strawberries, mostly because it's planting time. Today we are planting 12,000 strawberry plants out here at Field Stone! In celebration of the first fruit of summer, serve this yummy berry treat.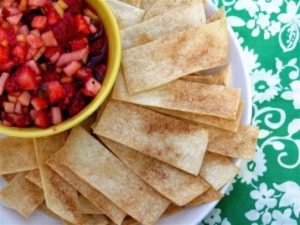 Strawberry Fruit Salsa with Baked Cinnamon Tortilla Chips
1 kiwi, peeled and diced
1 Golden Delicious apple – peeled, cored and diced
4 oz. raspberries or blueberries
8 oz. of strawberries, diced
¼ cup Strawberry Dessert Wine
10 small flour tortillas 
4 Tablespoons melted butter 
2 cups cinnamon sugar
In a large bowl, thoroughly mix kiwis, apples, raspberries, strawberries and Strawberry Dessert wine. Cover and chill in the refrigerator at least 15 minutes. Preheat oven to 350 degrees. Coat one side of each flour tortilla with melted butter.  Sprinkle tortillas with desired amount of cinnamon sugar. Using a pizza cutter, cut each tortilla in half and then cut each half into 4 wedges. Arrange in a single layer on a large baking sheet. Bake in the preheated oven 8 to 10 minutes. Repeat with any remaining tortilla wedges. Allow to cool approximately 15 minutes. Serve with chilled fruit mixture.  This is the perfect patio appetizer… sure to be a hit! 
2) Read some poetry. OK, I'm kidding. But I can't help think of Thomas Dekker's poem, The Merry Month of May and its famous line, "So green, so green, so green". Isn't the best part about May the fact that winter, has been, has been, has been? It's over, Rover, and it's patio time from here on in. So pull up the lawn chair, put up the feet, uncork the Strawberry-Rhubarb Fruit Wine for sipping, and find your favourite book.  The four signs that summer has truly arrived.
3) Visit a market. Many seasonal Farmers Markets are opening on the long weekend for the summer session. It's time to think about summer excursions and heading out to browse the ever-growing array of farm fresh foods, local products and hand-made items that can be found at a market near you.
4) End the day with a fruity cocktail.  Recently we re-discovered an old favourite – a gin Floradora – and gave it the Field Stone treatment.  Lovely, light and summery.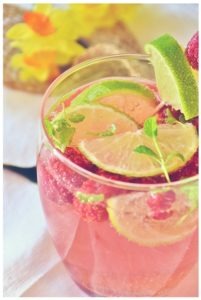 Field Stone Floradora
2 oz gin
1 oz  Raspberry Dessert Wine
½ oz lime juice
2 oz ginger beer
Mix together in a glass, over ice.  Garnish with raspberries and a twist of lime.
  (For a slightly sweeter drink, you can substitute ginger ale for the ginger beer.)  Either way..Yum!
Of course, we don't want to get ahead of ourselves!  Coming up this Saturday is the great day set aside at the beginning of summer to honour Mom.  We can help you with that!  Along with offering our Raspberry Fruit Wine/Strawberry Dessert Wine Mother's Day Gift Pack (a mouthful for sure) at Calgary Farmers Market this weekend, we also have a great serving suggestion for Mother's Day brunch.  Try it this weekend – guaranteed to make Mom feel special.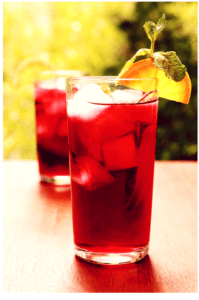 Lemon-Raspberry Sangria
1 bottle Raspberry Fruit Wine
1 can San Pellegrino Limonata
1 ½ cups Cranberry-Raspberry juice
Mix together in a pitcher.  Add 2 lemons, sliced, and fresh or frozen raspberries.  Allow time to chill.
Super simple and super tasty!  Enjoy.
And final proof that the summer is really here? The Seasonal Farmers Markets will open for the season!  
The LACOMBE FARMERS MARKET will begin on Friday, May 18 at 9am, at its new location in Michener Park.
The SYLVAN LAKE FARMERS MARKET will begin Friday, May 18 at 4pm, at its new location at 5104 Lakeshore Drive.
The BENTLEY FARMERS MARKET will begin on Saturday, May 19 at 1:30pm, at 5218 – 50 Street.
The EDMONTON CALLINGWOOD FARMERS MARKET will begin on Sunday, May 20 at 10am, at 6655 178 St NW.  (Yes, Edmonton!!)
The OLDS FARMERS MARKET will begin on Thursday, May 24 at 3:30 pm, at the Cow Palace Parking Lot.
The RED DEER DOWNTOWN FARMERS MARKET will begin on Wednesday, May 30 at 3:30 pm, right on Little Gaetz Avenue downtown.
The AIRDRIE FARMERS MARKET (Artisan Alley) will begin on Wednesday, May 30 at 3:30 pm, at the Plainsmen Arena grounds.  (Yes, Airdrie, we are returning!)
We will also be attending the VALLEYVIEW FARMERS MARKET on Thursday, May 10 at 11am, at 4807 50 Street.
So excited to add new markets to our summer season this year.  There will be many more starting up in June, and you'll find Field Stone wine tastings at all locations.
For information on seasonal markets, visit our website "Find Us" page.  For daily updates, follow us on Twitter, Facebook or Instagram.  As more markets start up and summer events begin, we'll always let you know where to find us.  And there'll be more info in the June Newsletter, so stay tuned.
In the meantime, mark the calendar, cause the wonderful summer season is officially upon us.
And that's it for this month.
Merry Merry May, everyone.   Let the summer begin!  
Sign Up For Our Newsletter

Find Articles