To borrow a phrase from the nautical world, in the merry month of May, all things get under way!
It's true.  Here at Field Stone, May hosts the start up of summer, the start of the growing season, the start up of seasonal markets.  The winery gets ready to open for the summer season, the plants bud out.  It's an exciting time for us as we begin some of our favourite summer activities and announce some new ones.   You never know what May will bring!
It's a busy month for sure.  The last of our dessert wines will go in the bottle this week, just in time to accompany your summer lemonade.  That's three to one, for any of you who haven't tried it yet.   Your lemonade will take on a whole new dimension!
The saskatoon berry bushes, the chokecherries and the raspberries usually bud out, and begin their own growing season.   With the cold temperatures in March and April, we are a little behind this year.  Of course we anxiously await some good rains to keep everything growing.
It goes without saying that the first major event in May is MOTHER'S DAY.  If you are shopping this week for the perfect gift, we have a beautiful gift pack available at the Calgary Farmers Market, right through til Sunday.  You'll get a lovely 2-wine package consisting of a Raspberry Fruit Wine and a Strawberry Dessert Wine, specially priced at 10% off!  Your mom will love it, and with any luck, she may even share it with you…
And nothing beats Calgary Farmers Market as a perfect outing destination for you and your mom this weekend.  "Mom's Pamper Lounge" will include massages, tasty treats, draw prizes and more.  Bring your mom, step-mom, mom-to-be and grandma to the market for a fun day of pampering and celebration on Saturday, May 11th.
The second major event in May is the Long Weekend.  This brings all kinds of commencements for Field Stone, the first of which is that several of our regular seasonal markets will begin.  We are VERY excited to add some first-time ever Seasonal Farmers Markets to our list this year, as well as return to many of our favourites.  Some will begin early in June, but I am going to list them all here for easy reference.  It's a long list… but we are happy to be coming to your neighbourhood!  Very soon, you can find us at:
Banff Market – Wednesdays – Central Park – May 22 to Oct 2 – 10am to 6pm
Bearspaw Market (Cgy) – Sundays – 25240 Nagway – June 2 to Oct 6 – 10 to 2
Bentley Market – Saturdays – Curling Rink – May 18 to Sep 7 – 1:30 to 3:30
Callingwood Market (Edm) – Sundays – 69 Ave/189 St – May 5 to Oct 13 – 10 to 3
CSpace Market (Edm) – Saturdays – 1721 29 Ave. – June 1 to Oct 12 – 10 to 3
Cochrane Market – Saturdays – Cochrane Ranche – June 1 to Sep 28 – 9:30 to 1:30
Crossfield Market – Thursdays – 900 Mountain Ave – June 6 to Sep 26 – 3:30 to 7:30
Grassroots Market (Cgy) – Tuesdays – Deerfoot City – June 4 to Sep 24 – 3:30 to 7
Hillhurst Sunnyside (Cgy) – Wednesdays – 1320 5 Ave NW – May 15 to Oct 2 – 3 to 7
Millarville Market – Saturdays – Millarville Racetrack – June 16 to Oct 6 – 9 to 2
Okotoks Market – Fridays – 322041 15 Street E – June 14 to Sep 27 – 3:30 to 6:30
Olds Market – Thursdays – Cow Palace – June 13 to Jul 11 – 3:30 to 6:30
Rocky Mtn House Mkt – Thursdays – Main Street – June 27 to Aug 19 – 5:30 to 8:30
Sexsmith Farmers Market – Tuesdays – Curling Rink – June 18 to Oct 1 – 4 to 8
St. Albert Farmers Market – Saturdays – 5 St. Anne Street – June 8 to Oct 12 – 10 to 3
Strathmore Market – Fridays – Kinsmen Park – June 7 to Sep 20 – 3 to 6:30
Sylvan Lake Market – Fridays – 5104 Lakeshore – May 17 to Sep 27 – 4 to 7:30
Phew!!  And for a complete list at any time, please visit www.fieldstonefruitwines.com/find-us.
It is definitely the official start of the seasonal market season so, this long weekend, be sure to pack up your visitors and head out to a market … it's a great way to welcome the summer and to support your local producers at the same time. Great food, great products, great times!
We have one more bit of big news on the Farmers Market front… but we are saving that for the June newsletter.  Stay tuned…. (Hint: especially you, Edmonton).
Finally, if our Raspberry Fruit Wine is your gift of choice for mom this year, send along this lovely sangria recipe in the gift bag.  That way mom can enjoy the luscious flavour of our Raspberry Wine and also share it with several others at the same time.
Marvellous Mother's Day Sangria
2 cups white grape juice
1 cup cranberry-raspberry juice
1/4 cup Field Stone Raspberry Dessert Wine
1 apple
1 pear
1 navel orange
1 cup seedless black grapes
1 bottle Field Stone Raspberry Fruit Wine
Ice cubes, for serving
In a glass pitcher, combine the white grape juice, cranberry-raspberry juice and dessert wine.
Quarter and core the apple and pear, then thinly slice them and add to the pitcher along with the sliced orange and grapes. Cover the fruit and chill for at least 2 hours.
Add the fruit wine and serve the sangria over ice cubes in tall glasses.  Yum!
Granted, this newsletter is more about events, and not so much about wine.   But we all know how yummy Field Stone products are (no bias, to be sure).  With the commencement of warm, patio weather, fruit wines just jump into the conversation!
Happy May everyone!  Let the summer begin.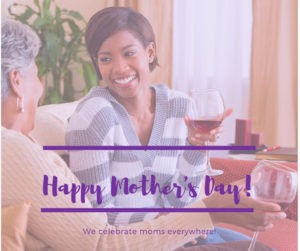 Sign Up For Our Newsletter