I have to admit that May is my favourite Newsletter.  Regardless of the weather, I always feel like the merry, merry month of May is the beginning of summer.  The beginning of the growing season.  The beginning of the summer farmers markets.  The beginning of the patio season.  These are normally exciting days for we winter-weary prairie people.
Obviously, this year we find ourselves in a situation that is very different from other years.  Most of us have been staying home to lessen the spread of coronavirus.  Most of our businesses have been closed or have had to take on a very different look.  Most of our usual spring activities have been sidelined.  These are very different days for all of us!
One thing that hasn't changed, however, is Albertans' great anticipation of Spring.  So, different or not, it's obvious that we still have enthusiasm for what lies ahead in this greening-up month.
Here at the orchard, our new 1500 strawberry plants will be arriving Thursday, ready to go in the ground.  Our raspberry transplanting continues all week;  we're at 3500 plants and counting!  Our first spring rain visited us last evening.  Believe it or not, it really is Spring, the work has begun, and we are all anxious for the merry days ahead.
With that in mind, the first thing that is appearing on the horizon is Mother's Day.  How we can all use a little something to celebrate!  What better way than honouring our very own moms? 
To that end, we have saved our best deal of the season for this week. We are offering a super promotion on our Mother's Day Six-Pack!  It includes two Raspberry Fruit Wine, two Strawberry-Rhubarb Fruit Wine and two Cherry Fruit Wine, along with 5 delicious sangria recipes.  Available this coming weekend at Calgary Farmers' Market and Edmonton's Bountiful Farmers' Market for pick up.  In addition we are offering free delivery in  Calgary/Edmonton/Strathmore/Chestermere…right to mom's door!  All for $106 (a 20% saving).  Give mom the flavours of summer and remind her just how special she is.  Local, sustainable, farm to glass…give the gift of craft this year….
To order delivery, send an email to info@fieldstonefruitwines.com or a direct message at our Facebook page/Instagram page.  That's it! 
In other news, as expected, there will be a few weeks' delay on the opening of summer farmers markets in Alberta, with most now starting up in the first part of June.  The great news is that we will be operating!  There will be distancing and many protocols in place to protect everyone while the present situation remains.  But the products will be as great as ever!  We will have all the details in our June Newsletter, so stay tuned for some exciting information about how to safely enjoy the great outdoors this coming season, and how to support all your local businesses at the same time. 
We have also received confirmation that our on-site winery store will be able to open this summer.  Saturday, June 6th will be our official opening day.  The wine-store will remain open throughout the summer right through to the end of August and we'll be open Saturdays and Sundays from 11am to 5pm.  We'd love to see you this season and we're conveniently located just 10 kilometers south of the Strathmore Esso on Highway 817. We hope you fit a visit into your summer plans.
And one reminder:  Alberta's fine liquor stores are all operating!  With summer approaching, stocking up with great summer wines is easy.   You can find a list of stores anytime at www.fieldstonefruitwines.com/find-us. Look for one in your neighbourhood and #chooselocal! 
And finally, one recipe for the weekend ahead.  Even if your meeting with Mom is virtual this year, we hope you can raise a glass together…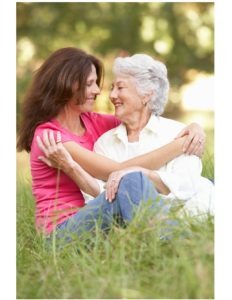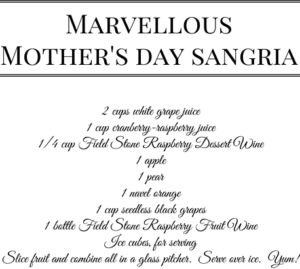 Short and sweet, that's all the news for this month.  
Happy May, everyone!  Let the summer begin.