Contrary to popular belief, in the fruit wine industry, November is a crazy-busy month! As I discussed in last month's newsletter, serious winemaking begins in the fall. This month we pressed 2000 pounds of cherries, 1000 pounds of raspberries and 600 pounds of strawberries. They are all now on their way to becoming some delicious wines that will remind us of summer every time we open them.
But winemaking aside, with the chillier weather, the snow showers and Christmas carols playing in buildings everywhere, it's hard not to think about Christmas. And for Field Stone, that means Christmas Farmers' Markets.
With the very successful Medicine Hat and Millarville markets already behind us, we are looking forward to next weekend and the BRIDGELAND RIVERSIDE CHRISTMAS MARKET, which will run Saturday, November 21st from 10 am to 3 pm. It will take place at the BRCA Community Hall at 917 Centre Avenue NE. This will be our first time at this popular city location, and it promises to be a great event. For all current information, visit their facebook page.
November 27 and 28 will find us at the LETHBRIDGE CHRISTMAS MARKET. Hours there will be Friday, 1-8, and Saturday, 10-5. Location is Exhibition Park, North & South Pavilion. For more information, visit the website. Trust me: there's a reason this market is entitled The BIG Christmas Market… so much to see and experience!
Saturday, November 28, we will also be welcoming you to our booth at the STRATHMORE CHRISTMAS MARKET. The hours are 10-4 and the location is the Strathmore Civic Centre (120 Brent Blvd.). More information can be found at their website page.
Saturday, November 28 will also find us at OLDS CHRISTMAS WONDERLAND MARKET. This event takes place at the Cow Palace, Olds Exhibition Grounds (5116 – 54 Street) from 10 am to 3 pm. There are many wonderful family events taking place in Olds that day. Don't miss it! More information can be found here.
The following two Saturdays – December 5 and December 12, we are very excited to be part of the ST. ALBERT CHRISTMAS MARKET for the very first time! You'll find us at St. Albert Place (5 St. Anne Street) between the hours of 10am and 3pm, both Saturdays. Lots of info at the St. Albert Market website. Come on out Edmonton!
Finally, and a little closer to home, we will also be attending the DRUMHELLER CHRISTMAS MARKET on December 12th at the Greentree Mall (555 Highway 10 E). This is one of several Christmas markets in Drumheller during the season, and you can find more information at their website page.
We hope to meet you at one of these fun events over the next six weeks. There's so much great Christmas shopping at the Holiday Markets!
Fruit wines make gift shopping easy – but to assist you even more, we've made up three Christmas Gift Packs that may be helpful to your shopping list. We will also be offering them for 10% off at the markets this season, including Calgary Farmers Market right up until Christmas.
Our 'dry' pack consists of one Black Currant Fruit Wine and one Wild Black Cherry Dessert Wine. Consider this is for drier-wine-lover on your list. They'll enjoy the fruity but subtle Black Currant and enjoy an after dinner drink of our 'Chokecherry Port." Yum!
Our 'medium' pack consists of Bumbleberry Fruit Wine and Saskatoon Berry Dessert Wine. Slightly sweeter in style, these two wines are a great accompaniment to Christmas dinner: Bumbleberry being our choice for turkey, and Saskatoon Dessert for accompanying your pumpkin pie or plum pudding. The perfect pack to take as a hostess gift if you are invited out for the big day.
Our 'sweet' pack consists of Strawberry-Rhubarb Fruit Wine and our Black Currant Dessert Wine. Our very-popular Strawberry-Rhubarb makes a great gift for those who love a sweeter sipping wine, and what says 'holiday festive' more than a Field Stone Royale made from one ounce of Black Currant Dessert and two ounces of champagne or Prosecco. Cheers!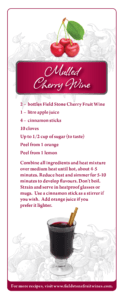 Of course I can't let the Christmas talk go by without talking about one more of my all-time-favourite recipes. While quantities last we will be offering a 2-Pack Mulled Cherry Wine set for 10% off at all market locations. If you want the spicy Christmas aromas of cinnamon and cloves wafting through your house on Christmas Eve, you'll want to make up the wonderful recipe found at the bottom of this page, and put it in your crock pot to enjoy throughout the evening!
Finally, if you want to attend a great wine event this weekend, come on out to Coop Wine Spirits Beer's premier tasting event, the "Grape Escape." Taking place Friday and Saturday (November 13 and 14) at the BMO Center, Calgary, this is a wonderful opportunity to sample many excellent products available at Coop Liquor Stores in Alberta. You can find ticket information at Co-op's event page.
And that concludes the news from Field Stone for this month. We hope you enjoy the pre-Christmas activity, and we hope to see you at one of the markets this holiday season!
Sign Up For Our Newsletter

Find Articles