Contrary to popular belief, in the fruit wine industry, November is a crazy-busy month! As I discussed in last month's newsletter, serious winemaking begins in the fall.  This month we will see several thousand pounds of saskatoon berries, rhubarb and black currants prepped and pressed and filling the tanks. Soon they'll be on their way to becoming some delicious wines that will remind us of summer every time we open them.

But winemaking aside, with the chillier weather, the snow showers and Christmas carols playing in buildings everywhere, it's hard not to think about Christmas.  Already we see Christmas lights, stores filled with Christmas décor, and holiday advertising gearing up.  There's no doubt that the holiday season brings lots of activity for everyone, and for Field Stone, that means Christmas Markets.

With a few already behind us, we are looking forward to the weeks ahead and all the fun they will bring.  If you've ever spent time at a Christmas market, you will know that nothing can get you in the Christmas spirit quite like a market. Christmas activities, music, food and local artisans are just a part of it.   It's a complete experience!

Here's where we'll be participating over the next few weeks, beginning on Thursday!

Nov 8 to 11: Millarville Christmas Market, Thursday through Sunday at the Millarville Race Track from 10 to 5.  One of Calgary's most-beloved markets, you can find details here.  You will find us in the new arena this year!

November 9 and 10:  Medicine Hat Christmas Market, Cypress Center – Fieldhouse and Pavillion.  A Medicine Hat tradition!  Details at the website.

November 15 to 18:  Art Market, Telus Convention Center, Calgary.  Over 200 artisans will display their wares at this premier event.  Details at the website.

November 16 to 18:  Fall Into Christmas, Exhibition Park, Lethbridge.  A beautiful show of local craft and handmade art.  Our first time at the event!  Details can be found here.

November 22 to 25:  Banff Christmas Market, Warner Stables, Banff.  What is more festive than a mountain town on a wintry weekend?  Come on out and join in the fun.  Details at their website.

November 24:  Olds Country Wonderland Market, Cow Palace, Olds.  A long-time favourite of central-Albertans!  Details here.

November 24:  Strathmore Christmas Market, Civic Centre, Strathmore.  Strathmore's largest holiday market!   Find details at the website.

November 24:  Bridgeland Christmas Market, Bridgeland Community Center, Calgary.  A lovely neighbourhood market with a very local flair!  More details here.

November 29 to December 1:  Grande Prairie Christmas Market, Entrec Center, Grande Prairie.  Always a very popular event, this year is larger than ever!  Details at the website.

November 30 to December 1:  Spirit of Sylvan Yuletide Festival, NexSource Centre, Sylvan Lake.  A whole weekend of Christmas activities, the festival has something for everyone and a market that doesn't disappoint!  Details here.

November 30 to December 1:  The Big Christmas Farmers Market and Craft Show, Exhibition Park, Lethbridge.  A Lethbridge tradition with over 250 vendors this year!  Details can be found at the website.

December 2:  Triwood Community Christmas Market, Triwood Community Hall, Calgary.  A great neighbourhood and a great local market.  Details here.

December 7 to December 8:  Cochrane Christmas Market, Spray Lakes Sawmills Family Sports Centre, Cochrane.  Spread over two days this year, the 8th annual promises to be bigger and better!  Details at the Facebook page.

December 12:  Hillhurst Holiday Market, Hillhurst-Sunnyside Community Hall, Calgary.  This popular year-round market will hold its Holiday Market on this date, with special events and vendors.  Details at the website.

We know that's a lot of info, but if you haven't visited some of these holiday markets in previous years, we hope you make an extra effort to get out this year.  Nothing says "Festive" like a market.  And markets take one-stop-shopping to a new level!  Come see for yourself.

As you know, fruit wines and dessert wines make gift shopping easy – but to assist you even more, we've made up three Christmas Gift Packs that may take even more stress off your shopping list. We will also be offering them for 10% off at the markets this season, including Calgary Farmers Market, right up until Christmas.

Our 'dry' pack consists of one Black Currant Fruit Wine and one Wild Black Cherry Dessert Wine. Consider this is for drier-wine-lover on your list. They'll enjoy the fruity but subtle Black Currant and enjoy an after dinner drink of our 'Chokecherry Port." Yum!

Our 'medium' pack consists of Bumbleberry Fruit Wine and Saskatoon Berry Dessert Wine. Slightly sweeter in style, these two wines are a great accompaniment to Christmas dinner: Bumbleberry being our choice for turkey, and Saskatoon Dessert for accompanying your pumpkin pie or plum pudding. The perfect pack to take as a hostess gift if you are invited out for the big day.

Our 'sweet' pack consists of Strawberry-Rhubarb Fruit Wine and our Raspberry Dessert  Wine. Our very-popular Strawberry-Rhubarb makes a great gift for those who love a sweeter sipping wine, and what says 'holiday festive' more than an ounce of Raspberry Dessert Wine served in a chocolate cup?  Cheers!

Of course we can't let the Christmas talk go by without talking about one more of our all-time-favourite recipes. While quantities last we will be offering a 2-Pack Mulled Cherry Wine set for $40.00 at all market locations. If you want the spicy Christmas aromas of cinnamon and cloves wafting through your house on Christmas Eve, you'll want to make up the wonderful recipe found at the bottom of this page, and put it in your crock pot to enjoy throughout the evening!  But don't take my word for it.  We'll be serving samples at most of our markets this holiday season.  Come by for a taste and decide for yourself.

Finally, I'll leave you with a super-simple martini that is great to mix up after a busy day of shopping at the Christmas Markets.   Black Currant Dessert Wine and a little blueberry juice mix up into this delightful sipper with ease.  Enjoy!

And that's it for news from Field Stone this month.  We wish you much fun in all your pre-Christmas activities … and we hope to see you at one of the markets this holiday season.

Happy Holiday Shopping, everyone!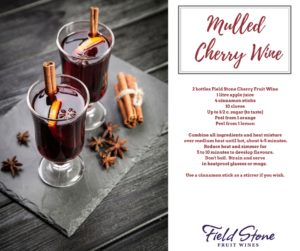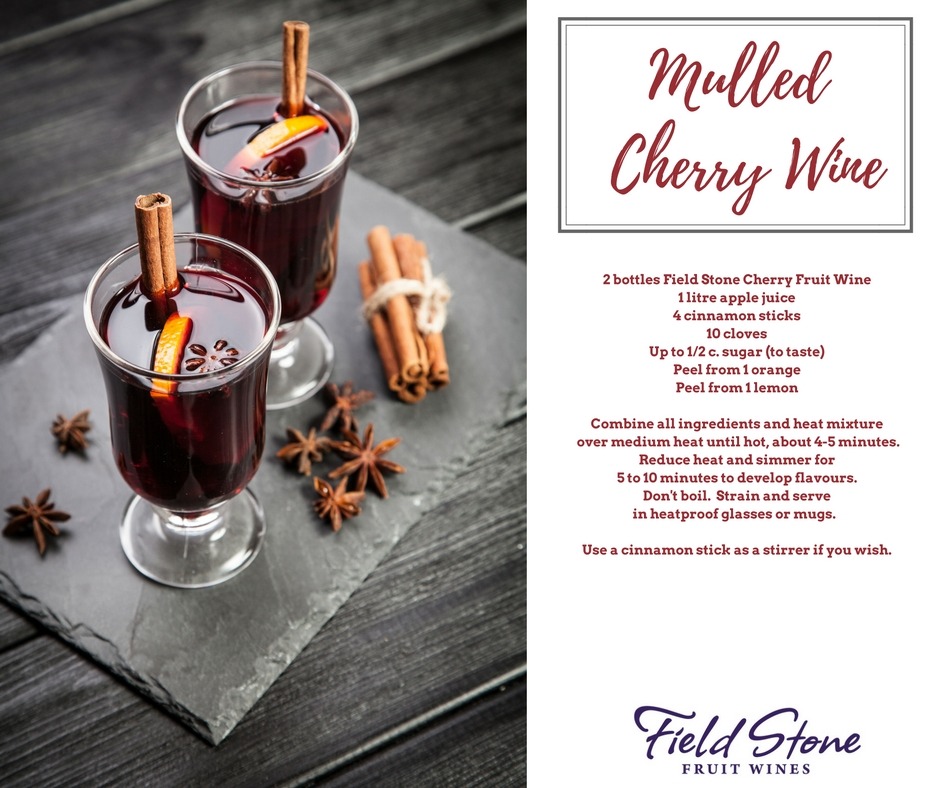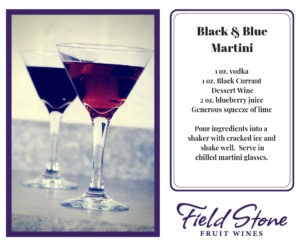 Sign Up For Our Newsletter

Find Articles