I've been singing "Shine On, Harvest Moon" all morning.  Not sure why… we had considerably less berries to harvest this year, so we've been finished for some time already.  I guess the seasons are ingrained in a farmer's psyche, even in years when seasonal rituals are not so evident.  We are happy to say, however, that in spite of all, we have acquired lots of fruit for winemaking this winter.  The Harvest Moon was good to many Alberta fruit farmers this year, and they in turn, have been good to us.  Combined with our own excellent fall strawberry crop, and a reasonable harvest of saskatoon berries, we are ready and set.

It is definitely harvest season. So many indicators.  Nippy air, falling leaves.  Summer seasonal markets at an end.  The summer has flown and we have only four more appearances at a seasonal market this year:  Wednesday, October 5 at Red Deer Downtown, Friday, October 7 at Lacombe and Sylvan Lake, and Saturday, October 8th at Millarville.  Thank you to everyone who visited us at one of the 12 seasonals we were a part of this summer.  It was great to meet you all, in all parts of the province!

I always think that one of the best things about fall is planning for Thanksgiving: all those wonderful flavours coming together in one place and time.   Here at Field Stone, we like to feel that we are continuing the ancient practice of using wild native berries at the Thanksgiving feast.  Now those berries come in a bottle… berry wines are the new black!

First of all, if you haven't served our Bumbleberry Fruit Wine with your turkey before, be sure to try it this year.   Bumbleberry's subtle berry flavours perfectly complement the mild flavor and texture of turkey.  And our Cherry Fruit Wine is great accompaniment if you prefer a ham;  you won't be disappointed with either choice!

Of course, you don't have to stop there.  Ratchet up your cranberries with this great recipe; I include it every year in the October newsletter, cause you just can't beat it:

Cranberry Sauce Extraordinaire
1 bag fresh cranberries
¼ teaspoon cinnamon or 1 cinnamon stick
Dash nutmeg
1 cup Field Stone Wild Black Cherry Dessert Wine
¾ cup wildberry juice
¼ cup honey
Simmer all ingredients until berries are soft and slightly reduced.  Cool and serve.
Yum!

For something slightly different in the turkey stuffing department, here's a quick and easy idea:

Saskatoon-Prune Dressing
Chop 24 dried prunes and soak in Saskatoon Berry Dessert Wine overnight.
Add to your favourite stuffing recipe for a yummy flavour boost!

And one more turkey feast recommendation:  Saskatoon Berry Dessert Wine served with your pumpkin pie.  This is a pairing we love –  these two flavours have "harvest" written all over them.   Sometimes in our haste to mix dessert wines into cocktails, especially in the summer, we forget that all alone, dessert wines are always the perfect ending to a perfect meal.

To make it easy for you, we have our Bumbleberry and Saskatoon Dessert Wines packaged up this week at Calgary Farmers Market – ready to go, and 10% off.  Stop on by if you can!  Invited out?  Take one along (well-chilled) for a hostess gift. Whatever your plans, we hope you invite Field Stone to be a part of your Thanksgiving this weekend.

It always seems somewhat strange to talk about Thanksgiving and Halloween in the same breath, but if there are any potential ghoulies and ghosties in your house, you know that Halloween is coming too.  Fruit wines can be a very fun part of the perfect Halloween Party.  Back by popular demand, here's a few scary fruit wine ideas:

Black Widow Martini
2 parts Black Currant Dessert Wine
3 parts Vodka
1 part Triple Sec
1 squeeze fresh lemon juice
1 part Pom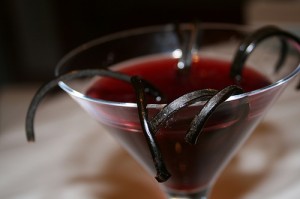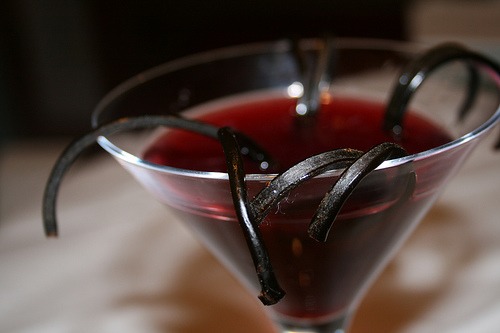 egranate juice
black licorice strings
Shake together in a shaker with cracked ice.  Pour into martini glasses .  Cut 6 sections of black licorice and fashion into a spider hanging over the edge.

(For an even more interesting flavour, substitute Wild Black Cherry Dessert Wine for the Black Currant).
Blood Red Punch with Icy Hand Centrepiece 
This one's a hoot!  For the red punch, use our Raspberry Sangria:
1 bottle Field Stone Raspberry Fruit Wine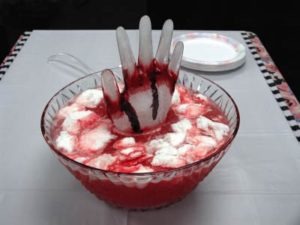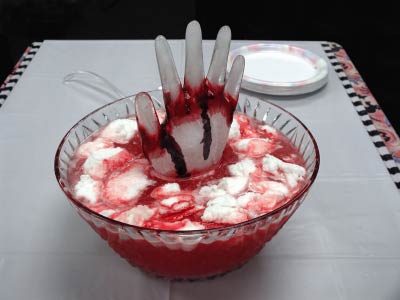 splash of orange juice
2 Tbsp. sugar or apple juice concentrate (opt)
2 shots Field Stone Raspberry Dessert Wine
2 shots Raspberry Vodka
4 cups club soda
marshmallows
For the icy hand:  Fill 2 latex gloves with water, tie the ends and freeze. Once frozen remove the glove and insert in the centre of the punch.  For extra effect, use Raspberry syrup or preserves to squirt more "blood" over the hand and floating marshmallows.  Eek!
On a more serious note, news from the winery this month is our summer draw, and ….Kim Richardson of Calgary is our lucky winner!  Congratulations, Kim, and thanks to everyone who visited and entered the draw this summer.
And for those of you who missed our big news on social media this week, we are thrilled to announce that our Black Currant Fruit Wine recently received the BEST IN CLASS award at Culinaire Magazine's ALBERTA BEVERAGE AWARDS!  And that's not all.  Our Cherry Fruit Wine, Raspberry Fruit Wine and Wild Black Cherry Dessert Wine all took home a Judge's Selection Award (silver medal).  This competition is open to ANY product that was for sale in Alberta this year, both international and national.   We are so proud of our Black Currant Fruit Wine and its great showing!  Read more about the Alberta Beverage Award winners at Culnaire's website:  www.culinairemagazine.ca.  Thank you Culinaire!
And just a reminder:  Black Currant as well as our other products are available at so MANY new retail stores in Alberta.  Visit our website at www.fieldstonefruitwines.com/find-us to find a store near you.  New stores are being added regularly.
Finally, coming up this month is Calgary's most anticipated wine event:  The Rocky Mountain  Wine and Food Festival.  Taking place at the BMO Center on October 14 and 15, this year's event promises a food and beverage tasting beyond your tastebud's imagination.  You can get all the details at www.rockymountainwine.com.  Stay tuned to our social media pages this month for free ticket giveaways.  We hope to see you there!
And that's all we have for this month.  Until next time, we hope your "Harvest moon will smile, and shine on all the while…" Happy October, everyone!
Sign Up For Our Newsletter

Find Articles

Recent News and Events
Field Stone Recipes

Search Field Stone Site