It's supposed to be Autumn this month.
In many parts of the province however, we've already had a blast of Old Man Winter. We may be losing hope for more Indian Summer ahead, but not to worry.  With "Summer in a Bottle" in hand, you can take the summer with you into any season.   Our fall crops of strawberries and raspberries may be finished in the field, and the snow may be piled up in the saskatoons, but all the berries are "well preserved" to help you face the next season!
Summer-ending may be a downer, but one exciting thing about October in the wine industry is that results from the national and international wine competitions are all in.   With our final competition results being released this month, we are very happy to announce that Field Stone has had a tremendous year in competition.
Our first award this summer came from the National Wine Awards of Canada.  Boasting the largest competition in its 17-year history, NWA awarded Field Stone a Gold Medal for our Black Currant Fruit Wine.  The competition saw 1700 wines from 242 wineries across Canada, possibly the largest-ever collection of different Canadian wines in one room.  The wines were judged over five full days in Wolfville, Nova Scotia by 22 judges from seven provinces. The judges were all well-established wine writers and educators with broad international wine experience The wines were all served blind (producer, origin, and price were not revealed) but identified and organized into flights by variety or style. The top medalists were tasted in multiple rounds by several different judges. The over 1,700 entries from 242 wineries came from eight provinces. You can read more about the other competition winners at www.winealign.com.  Very exciting to be part of this event!
Secondly, at The North West Wine Summit in Port Hood, Oregon, where 1279 entries were judged from 340 producers – we received our best showing ever! The awards included a Bronze Medal for our Strawberry Dessert Wine; Silver Medals for our Bumbleberry Fruit Wine, Raspberry Fruit Wine and Raspberry Dessert Wine, and two Gold Medals, once again for our Black Currant Fruit Wine and also our Saskatoon Berry Dessert Wine.
We also received three additional recognitions from the Summit: "The Superlative Award" for best of region for our Black Currant Fruit Wine;  a coveted "Best Value Award" for Black Currant Fruit Wine; and "Best of Category" awards for both the Black Currant Fruit Wine and Saskatoon Berry Dessert Wine.
The North West Wine Summit held in Oregon, USA, is one of the region's oldest and most popular contests. Six panels, including 20 judges from all over North America, gathered this year in Mt. Hood, Oregon, to judge 1279 wines from 340 producers in the Pacific Northwest, including Oregon, Washington, Idaho, British Columbia, Alberta, Saskatchewan and Montana.  The purpose of the festival is to raise awareness nationally and internationally of the quality of the wine from this region of the world.  You can find all their other winners at www.northwestwinesummit.com.  This was our best showing ever at the North West Wine Summit!
And finally, right here in Alberta, the Alberta Beverage Awards competition awarded Field Stone the "Best In Class" distinction (Best Fruit Wine in the competition), for its Raspberry Fruit Wine.   In addition, our Black Currant Fruit Wine, Wild Black Cherry Dessert Wine and Strawberry Dessert Wine were awarded the Judge's Selection (silver medal) as top performers in the Fruit Wine and Fortified/Dessert Wine categories.
The Alberta Beverage Awards competition was launched in 2013 to help identify the very best wines, beers and spirits available in the dynamic Alberta beverage marketplace.  Beverages are judged in Calgary by some of Alberta's finest palates including buyers, sommeliers, retailers and educators. Overall, only about 1/3 of total entries earn an award at the competition, ensuring that results are meaningful.  We are always very thrilled to be acknowledged in our home province!  For more information on this competition,  visit www.culinairemagazine.ca/aba.
All in all – a very, very exciting year for us in competition.  We are so proud of our winners – especially our Black Currant Fruit Wine.  She represented us so well!  We hope this list encourages you to try one of our winners some time soon.
So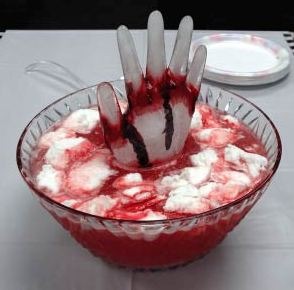 what else is exciting about October arriving?  Now that we are through the Thanksgiving weekend, we can look forward to that other strange celebration that happens at month's end:  Halloween!  As many of you already know, fruit wines offer fun possibilities for every occasion, and if you are hosting a party or are in charge of the drinks, you may want to check out our website for some scary sipping ideas.  My two favourite (I mention them every year!)  are our Black Widow Martini and our Icy Hand Punch.  Combining our Raving Raspberry Sangria, some ice frozen inside a rubber glove, and a few marshmallows can scare your guests silly.   Check out the photo, and give it a try!  She looks great on that buffet table.
October is also the beginning of fall fairs and harvest events.  Join us next weekend – October 20 and 21 – for one of the first on the list.  Beautiful "Rocking R Guest Ranch" south of Strathmore, Alberta is the setting for Vintage and Vines Country Market, running Friday evening from 4pm to 8pm and Saturday from 10am to 4pm.  Enjoy a drive to the country and get a jump on your Christmas shopping.  You won't be disappointed!   For more details, visit https://www.facebook.com/Barn-Bored-Creations-by-Cara-1789798474680161/.
We'll have more news about Fall and Christmas markets in our November newsletter.  Stay tuned!
And finally, I have to leave you with our latest fall recipe – Cherry Cider Sangria.  This lovely combination has "Fall Flavour" written all over it!  Apple, cherry and a little ginger…. Fall winners, every one.  Who can resist?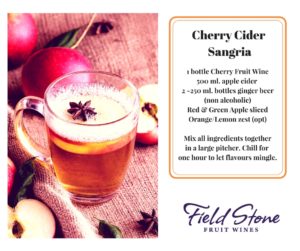 And that's all for this month.
Happy October, everyone.  Enjoy the harvest season.
Sign Up For Our Newsletter

Find Articles