If you've listened to reports lately, you've heard the experts tell us that Indian Summer will  soon be waving goodbye, and Old Man Winter will be coming up the road. Summer markets finished, Thanksgiving behind us, fall field work completed. What do we look forward to now?
Let the winemaking begin.
Unlike grape wines, fruit wines can be made year round, and as you know, we concentrate on our winemaking in the late fall and winter months. It's a busy time for us, but an enjoyable one. Some days the heady berry aromas in the winery are overwhelming. Some days you want to jump right in the tank. We haven't done that just yet.
Presently, we are concentrating on new vintages of Strawberry-Rhubarb Fruit Wine and Black Currant Dessert Wine.  Generally speaking, these Alberta fruit crops produced very well this year. In fact our fall strawberries were champions! Planted on Mother's Day 2018, the seedlings produced 2000 pounds of berries in just 116 days!  Truly remarkable in the Alberta climate.  So all in all, it promises to be a very interesting winemaking season … stay tuned.
Did you know that only estate wineries must grow their own fruit?  We are very proud to be one of Alberta's few estate wineries.  We're proud of all the fruit we grow, and enjoy crafting great Alberta fruit into delicious Alberta wines.
With roasted turkeys and hams behind us, some of you are looking ahead to the next party that involves great food and wine.  By special request from all you ghoulies and ghosties, itching for a great Halloween Party, I am once again listing my two favourite scary fruit wine recipes:
Black Widow Martini
2 parts Black Currant Dessert Wine
3 parts Vodka
1 part Triple Sec
1 squeeze fresh lemon juice
1 part Pomegranate juice
black licorice strings
Shake together in a shaker with cracked ice. Pour into martini glasses . Cut 6 sections of black licorice and fashion into a spider hanging over the edge. Eeek!
(For an even more interesting flavour, substitute Wild Black Cherry Dessert Wine for the Black Currant).
Icy Severed Hand Punch
For a blood-red punch use:
Lemon Raspberry Sangria
1 bottle Field Stone Raspberry Fruit Wine
1 can San Pellegrino Limonata
1 ½ cups raspberry-cranberry juice
For an icy hand: Fill 2 latex gloves with water, tie the ends and freeze. Once frozen remove the glove and you are good to go. Set your icy hand in the center of the punch bowl, and for extra effect, use Raspberry syrup or preserves to squirt more "blood" over the hand and floating marshmallows. Scary!
And one more for good measure:
Black Night Martini
2 parts Blavod Black Vodka
1 part Raspberry Dessert Wine
Combine in a shaker with ice. Shake well and strain into a chilled cocktail glass. Rim the glass with red sugar. Be sure to "drip" some down the side. You can also garnish with black gummy worms or blackberry "brains."
For an extra-fun Halloween fix, be sure and visit the indoor markets. Halloween activities are alive and well (or should I say dead and scary) and you can read all about the "Spooktacular Family Fun" planned at Calgary Farmers Market on October 26th. Check out their website for the many, many scary details!
And that brings us to Santa…
On a completely different note, and at the great risk of rushing the season, I just have to tell you about some Christmas Markets we will be attending. They are right around the corner!
Take the stress out of Christmas shopping this year by picking up a lovely gift pack of fruit and dessert wine for all the special people on your list. We'll have a variety of packs and combinations all ready for purchase. All you have to do is add your name to the gift card!
First off, for the first time ever, we will be set up at FALL INTO CHRISTMAS, MEDICINE HAT this coming weekend.  A truly wonderful handmade artisan market, this event runs three days – October 19, 20 and 21 – at the Field House, Cypress Centre.  We're very excited to participate this year!  We'll have all our products for sale at the booth, as well as some extra-special Gift Packs.  A chance for early Christmas shopping!  All information at www.fallintochristmas.com.
Also this weekend, and a little closer to home, is the VINTAGE AND VINES COUNTRY MARKET in Strathmore.  Moving to a bigger venue this year, you'll find us October 19 and 20 at the Livestock Pavillion, Strathmore Ag Grounds, Strathmore.  This market highlights vintage vendors and artisans, presenting truly beautiful works by local artisans.  There will be free wine and beer tastings and food trucks to boot.  Don't miss it!  More details at www.facebook.com/vintageandvinescountrymarket.
Early in November you will find us at the AIRDRIE CHRISTMAS SHOW on November 2nd and 3rd.  Held this year at the Airdrie Town & Country Community Center at 275 Jensen Drive NE, this show has something for everyone. You will find everything from unique hand made items  to culinary delights.  There will be food trucks on site, and we will be asking for donations to the Airdrie Food Bank in place of admission. There's more info at www.facebook.com/airdriefarmersmarket.
Also on Saturday, November 3rd, we will be set up at the CROSSFIELD CHRISTMAS MARKET.  We will be at the Crossfield Community Center, 900 Mountain Avenue, from 10 until 4.  There will be over 100 artisans this year and admission is free.  Food bank donations are accepted.  We hope you come on out and support local!
Our Christmas Market activity moves into HIGH GEAR for the remainder of November and December but I will save more details for November's newsletter.  Suffice to say we are making tracks around the province this coming season so we hope to make your fruit wine Christmas shopping very convenient for you this year.  Fruit wines, dessert wines, pre-packaged gift packs and great prices make your Christmas shopping easy.  Remember you can always keep abreast of our travels by following us on Facebook, Twitter and Instagram.
And finally, just a reminder that the winery is now closed for the season. We do take appointments for tastings by phone, however, so call us at (403) 934-2749 or email to info@fieldstonefruitwines.com if you wish to visit. We'd like to thank everyone who visited this summer and we'd especially like to congratulate LEE-ANN MANN of Medicine Hat,  who won our winery-visit draw. Congratulations, Lee-Ann.
And that's all the news for October.
Happy Halloween, everyone!  Eat, Drink and Be Scary.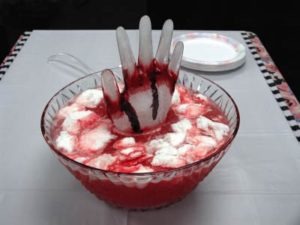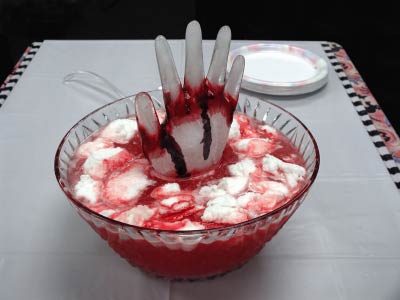 Sign Up For Our Newsletter

Find Articles