It's supposed to be Autumn this month.
This weekend, however, we're having our first blast of Old Man Winter. We may be losing hope for more warm fall temperatures ahead, but not to worry.  With "Summer in a Bottle" in hand, you can take the summer with you into any season.   Our fall crops of strawberries and raspberries may be finished in the field, and the snow may be slowly piling up in the saskatoons, but all the berries are "well preserved" to help you face the next season!
Summer-ending may be a downer, but one exciting thing about October in the wine industry is that results of wine competitions are all in.   In case you missed it in last month's newsletter, we are delighted to announce that, once again, the Alberta Beverage Awards competition awarded Field Stone the "Best In Class" distinction (Best Fruit Wine in the competition), for its Black Currant Fruit Wine.   In addition, our Cherry Fruit Wine was awarded the Judge's Selection (silver medal) as a top performer. 
The Alberta Beverage Awards competition was launched in 2013 to help identify the very best wines, beers and spirits available in the dynamic Alberta beverage marketplace.  Beverages are judged in Calgary by some of Alberta's finest palates including buyers, sommeliers, retailers and educators. We are always very thrilled to be acknowledged in our home province!  For more information on the winners, please visit the October issue of www.culinairemagazine.ca.  And if you haven't yet tried our Black Currant Fruit Wine, this may be a great week to do it.  Off-dry, moderately oaked, fruity finish…. Who knows, it may become a new favourite…
So what else is exciting about October arriving?  Now that we are through the Thanksgiving weekend, we can look forward to that other strange celebration that happens at month's end:  Halloween.  As many of you already know, fruit wines offer fun possibilities for every occasion, and although your celebrations may look a little different this year, you may want to check out our website for some scary sipping ideas.  My two favourite (I mention them every year) are our Black Widow Martini and our Icy Hand Punch.  Combining our Raving Raspberry Sangria, some ice frozen inside a rubber glove, dropping the fresh fruit and adding a few marshmallows can scare you silly.   Check out the photo, and give it a try.  And if you are all about spiders, then some long black licorice can do the trick when added to our Black Widow Martini.  Fun can still be had…. even in these unusual times…  and fruit wines can help! Visit our Drink Recipes page for the details.
October is also the beginning of fall fairs and harvest events.  Somewhat scaled back this year, we are delighted to still be a part of some fun events coming up.
Join us next weekend – October 24 – for one of the first on the list.  The Cochrane Lions Event Centre will be the location of the popular Oktoberfest Market.  Enjoy a drive to the country and get a jump on your pre-holiday shopping.  With 50+ great exhibitors, you won't be disappointed.  For more details, check out https://www.eventbrite.ca/e/cochrane-octoberfest-artisan-market-tickets-88967226369.
We'll have more news about Fall and Christmas markets in our November newsletter.  Stay tuned … lots of fun ahead!
Now that our seasonal outdoor markets have ended, we want to remind you that our indoor locations – Calgary Farmers Market and Edmonton Bountiful Market – are picking up all the slack with great fall bounty and great fall events.  In spite of strict regulations and heightened protocols, these markets have pulled out all the stops to continue their goals of providing you an authentic, enjoyable, local experience. Open all weekend, and every weekend, they shouldn't be missed!
And finally, we have some big news to share today.  We are beyond excited to open next month at the brand new GASOLINE ALLEY INDOOR FARMERS MARKET in Red Deer, Alberta!  The exact opening date is still to be announced, but trust us, it's right around the corner.  Finally, central Alberta will have its own year-round, indoor farmers market, where you can shop, enjoy and explore local.
With it's easy-to-find location, GAIFM (as it has come to be known) will highlight local producers, artisans and farmers from central and southern Alberta. Parking will be plentiful! 
We will have more information in next month's newsletter so stay tuned!  In the meantime, you can visit www.gasolinealleyindoorfarmersmarket.ca.  We promise lots of excitement ahead 😊
And finally, we'll leave you with a favourite fall recipe – Cherry Cider Sangria.  This lovely combination has "Fall Flavour" written all over it!  Apple, cherry and a little ginger…. Fall winners, every one.  Who can resist?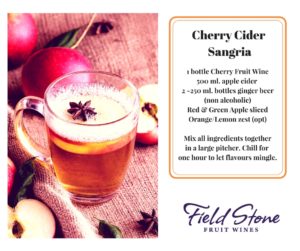 Happy October, everyone!