The signs of fall are somewhat different at a fruit winery.
All around us, our grain-farming neighbours are bringing in the harvest in big ways, with big machines and lots of dust.  Canadian vineyards are picking and pressing fresh grapes.  Vegetable farmers are frantically digging root vegetables.  Berry harvest, however, is in wind-down mode.
Saskatoon berries, picked right in the heat of the summer, have long been sent to the freezer.  Raspberries, too, have been pressed and are in the tank.  The last of our fall strawberries are being picked as we speak.  Even the late-ripening chokecherries are off the bush and fermenting.
Our fall rituals, consequently, are somewhat non-harvest related!  They include:
a)      Closing up the Winery. Yes, the last day open was September 3rd.  Thank you to everyone who visited this summer, tasted our wines, enjoyed the country, and entered our contest.  I am happy to announce that Marlene Way was our grand winner.  Congratulations Marlene!  Don't forget that wine tasting at the winery is still available in the winter months by appointment.  Just call us at 403 934 2749, and leave a message.  We look forward to seeing you.
b)      Our Last Appearances at Seasonal Farmers Markets. Yes, our summer of FSOTR (Field Stone on the Road) has come almost to an end.  Most of our markets will continue until the end of September, and some (Millarville Farmers Market and Bearspaw Market) will continue through to the Thanksgiving weekend. If you love markets in the fall, then there is still time to visit.  The bounty is still considerable!  A huge thank you to everyone who came out to support markets this year – we enjoyed meeting you Calgary, Medicine Hat, Edmonton, Red Deer, Sylvan Lake, Crossfield, Olds, Bentley, Rimbey, Rocky Mountain House, Okotoks and Cochrane.  We hope you continue to support us by visiting our retail stores this winter, in many towns and cities across Alberta.  For a complete list of markets and retail stores, you can always visit fieldstonefruitwines.com/find-us.
c)      The Commencement of Fall Events. Field Stone is always thrilled to be a part of many wonderful fall events, shows, fundraisers, and various community functions, and no season is more jam-packed with them than autumn.   Well underway, these events are great opportunities for us to meet our customers, to support our community, and to connect with many who are new to the fruit wine world.
Our first event will be Central Alberta Co-op's 9th Annual Wine & Spirits Festival in Red Deer, taking place Friday, September 29th at Westerner Park's Parkland Pavillion from 5pm to 9pm.  If you live in the Red Deer area, don't miss this excellent show! There are always many new vendors and always great new products.  For tickets, inquire at any Central Alberta Co-op Liquor Store in your area.
Beginning in October, we have a steady line up of Fall and Christmas shows, some for the first time ever.   Tune in to next month's newsletter for all the details. We are excited to tell you about them.
And now on to the most important ritual of Fall – Thanksgiving!  It arrives early this year – thus the mention in September's newsletter.  As you probably know (I mention it every year), I love this holiday and all the wonderful foods and flavours that come together. What seems more appropriate and authentic than incorporating the flavours of wild native berries into the Thanksgiving feast?   We can help you accomplish just that.
First of all, (and at the risk of repeating myself), if you haven't paired our Bumbleberry Fruit Wine with roast turkey, be sure to treat yourself to this combination this year.  And for the perfect ending, try serving one ounce of our Saskatoon Dessert Wine as an accompaniment to your pumpkin pie… I can only say "yum".  And as added incentive, we will be offering 10% off our "Turkey Pack" – one Bumbleberry Fruit Wine and one Saskatoon Dessert Wine – at the Calgary Farmers Market, Millarville Farmers Market and Bearspaw Farmers Market every weekend from now up to and including Thanksgiving.  Come on down and get one!  (Invited out for dinner?  It's the perfect hostess gift… just make sure you take it already chilled.)
Serving ham?  Try our Cherry Fruit wine as a winning companion. They love each other!
Of course, there are many other ways to use fruit wines in the day's feasting agenda.  Having guests for the holiday?  Here's a few of our favourites for your Thanksgiving feast:
Pre-dinner drink:  Field Stone Saskatini
1 oz. Saskatoon Berry Dessert Wine
1 oz. pineapple juice
½ oz. vodka
Squeeze of lime
Pour ingredients into a shaker with cracked ice and shake well.  Serve in chilled martini glass.  Garnish with a lime twist.
Option:  For a Buffet Table, consider our Raspberry Sangria in a punch bowl… it's a beauty!
Appetizer:  Strawberry Cheese Pate
(Can be made ahead of time and the hint of strawberry and sage at Thanksgiving feast always pleases!)
2  ¾  oz (75 g) hard goat's cheese
2  ¾ oz  (75 g) blue cheese (Roquefort or Gorgonzola)
Small bunch of chives
6 fresh sage leaves
1 clove garlic
3-4 tablespoons Strawberry Dessert Wine
Remove any rind from cheeses.  Trim, rinse and dry the chives and sage and peel the garlic.  Put all into food processor or blender and process them to a thick paste.  Add the wine gradually, blend until smooth, then spoon into a dish to serve.  If not using immediately, cover with plastic wrap, but do not refrigerate.  Serve with water biscuits or breadsticks.
Salad:  Saskatoon Berry Vinaigrette
½ cup saskatoon berries (fresh or frozen)
4 tbsp. Saskatoon Berry Dessert Wine
1 tbsp. garlic, minced
4 tbsp. vinegar
4 tbsp.  extra virgin olive oil
1 tbsp. basil paste
2 tbsp. sugar
1 tbsp. fresh parsley
Salt & pepper to taste.
Puree in blender and use with your favourite greens.  Delish!
Main Course:  Cranberry Sauce Extraordinaire  
(I know I include this every year, but it's my favourite!)
1 bag fresh cranberries
¼ teaspoon cinnamon or 1 cinnamon stick
Dash nutmeg
1 cup Wild Black Cherry dessert wine
¾ cup wildberry juice
¼ cup honey
Simmer all ingredients until berries are soft and slightly reduced.  Cool and serve.
Dessert:  Pumpkin Pie & Whipped Cream with a 1-oz. glass of Saskatoon Berry Dessert Wine
(I know, this is too simple).
Option:  Bosc Pears in Dessert Wine
1 orange, zested and juiced
1 lemon, zested and juiced
3 cups Saskatoon Dessert Wine
1/2 cup sugar (more if you like it sweeter)
2 cinnamon sticks
8 Bosc pears
Place orange, lemon juice, zest, wine, sugar and cinnamon sticks in a heavy large pot. Bring to a simmer, stirring until sugar dissolves. Remove from heat.
Peel pears with a vegetable peeler or paring knife, leaving stems intact. Cut off a thin slice off the bottom of each pear so the pears can stand upright.
Place pears in the large saucepan. Cover and simmer pears until just tender. Rotate pears once during cooking. Using a slotted spoon carefully transfer pears to a baking dish and cool.
Reduce remaining sauce to about 1/2 cup (about 6-8 minutes). Strain into a separate bowl and let cool. Cover and refrigerate sauce and pears for at least 2 hours and up to 2 days.
To serve, bring to room temperature and place on large platter.  Spoon sauce over pears. Can be served with whipped cream on the side.
There you have it… easy as pie!  The luscious flavours of fruit wines can jazz up your Thanksgiving feast with little effort.  We hope you enjoy.
And that's all for September!  If you'd like more frequent updates from Field Stone, consider joining our conversations on Twitter, Facebook and Instagram.  We'd love to hear from you at any of these sites.
From farm to glass, we hope local fruit wines will be a part of your fall menus and leisure moments.  Be sure and take summer with you into every season.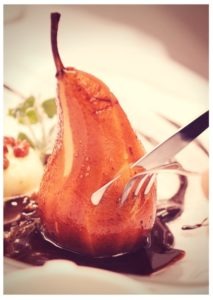 Happy September, everyone!
May you fall gently into Autumn.
Sign Up For Our Newsletter

Find Articles