"With what a glory comes and goes the year!" opens TO AUTUMN, a famous poem by Henry Wadsworth Longfellow.
It may be true that each season has its own glory, but Autumn is by far my favourite. I'll even admit that I'm happy to leave the heavy work of summer behind as fall approaches, and look forward to the unique events of September.
It continues: "And with a sober gladness the old year takes up His bright inheritance of golden fruits…."
Too true!  For example, here at the winery, we have started to pick the fall strawberries (red, not golden).  This is a very good thing, cause our Strawberry-Rhubarb Fruit Wine was a popular item at the farmers markets this summer, and a new batch will soon be ready.  Thank you to everyone who shopped our booth at our many summer markets (and is still shopping them).  It's always great to meet many first-time customers, and catch up with many long-timers.  Although one or two markets have already ended, most are still operating until the end of September, and a few right through to the Thanksgiving weekend.  Please check our website for all the details: here.  And please keep your fingers crossed for very-late-frost for our strawberries' sake.
For those of you who have visited our pop-up markets this summer , there is still one more on the calendar!  Find us this Saturday, September 14th at Calgary Farmers Market second  location – Greenwich – between the hours of 11 and 4.  Although we eagerly anticipate the new indoor market's opening in 2020, it's been great fun to "pop up" at the location a few times this summer – even in the mud on some rainy days!  Come on out this Saturday and see where Calgary's newest multi-day market will be (and shop for some great deals).    You can find all the details here.
Secondly, we have begun fall winemaking with Saskatoon Dessert Wine in the beginning stages.  For those of you who have never tried this luscious dessert wine, you are missing quite a treat.  Our Saskatoon Berry Crème dessert is a popular favourite, and our Field Stone Saskatini is not to be missed.  Our customers tell us that Saskatoon Berry Lemonade has been popular on their patios this summer, and many have enjoyed it simply as a dessert wine accompanying an Italian Almond Tart.  Many ways to love it, and all recipes at the website…
Thirdly, our many fall events are beginning!
On September 20, find us at the Friends of Fish Creek Park Society's annual fundraiser – "A Taste of Autumn."  Celebrate the changing of the seasons and show your support for Fish Creek Provincial Park at Canyon Meadows Golf & Country Club at 6:30 pm.  You'll find appetizers as well as beer, wine and spirits from seven local producers, as well as a silent auction.  Tickets and more information can be found here.
Then on September 21, we are excited to be a part of Okotoks Market Square's "BATCH" – An Artisan Tasting Event.  From 5-10pm you can find us at the Elk's Hall in Okotoks, where you'll find great music, great prizes and great coupons for food & drink.  Come on out and support local.  Ticket info here.
We're also happy to be a part of Central Alberta Co-Op's Eleventh Annual Wine & Spirits Festival, taking place in Red Deer on October 4th.   The event will be held at Westerner Park, Red Deer, between the hours of 5pm – 9pm, with over 100 vendors taking part.  For information regarding tickets, visit their event page:  here.  Always a fun evening, and always a great way to taste new products.  See you there, Red Deer!
Stay tuned for more fall/winter/Christmas market events which will be detailed in next month's newsletters.  It promises to be a busy season, with many opportunities for great Christmas shopping and many opportunities to support local as you do it.
Finally, the winery is now closed for regular hours.  A big thanks to everyone who came out this summer and everyone who stopped in while on vacation, or brought their out-of-town visitors, or their group (think "biking club").   We enjoyed having you all!  Stay tuned for the winner of our winery draw – to be announced in next month's newsletter.
Please remember that in the non-summer months, the winery is always open by appointment.  Just call us at (403) 934-2749 letting us know when you'd like to visit.
It's a rather short and sweet newsletter this month, but I can't close without leaving you with at least one recipe.  With the lovely weather last weekend, we have been continuing to enjoy our sangrias!  Here's a great one for entertaining.  If you haven't tried it this summer, there's still time…
Super Sunday Sangria  (makes a really big recipe)
1 litre white grape juice
2 cups cranberry-raspberry juice
1/2 cup Raspberry Dessert Wine
2 apples
2 pears
1 navel orange—trimmed, quartered lengthwise and sliced crosswise 1/3 inch thick
2 cups seedless black grapes
2 bottles Raspberry Fruit Wine
Ice cubes, for serving
1. In a 3-quart bowl, combine the white grape juice, cranberry-raspberry juice and dessert wine.
2. Quarter and core the apples and pears, then thinly slice them and add to the bowl along with the orange and grapes. Cover the fruit and chill for at least 2 hours and up to overnight.
3. Transfer the fruit and juices to a 5-quart punch bowl. Add the fruit wine and serve the sangria over ice cubes in tall glasses.
And one more cocktail before all the summer berries have disappeared from the markets:
Strawberry Siesta
.5 oz. vodka
.5 oz. Cointreau
.5 oz. lemon juice
2 oz. Strawberry Dessert Wine
Mix together and pour into a glass over ice.
Add some sliced fresh strawberries.
And that's all for this month.
Happy September, everyone.  Enjoy the golden fruits.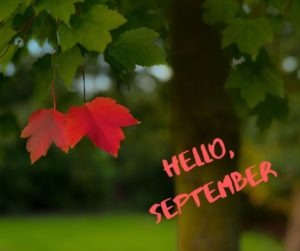 Sign Up For Our Newsletter

Find Articles