Our Winemaker – Dominic Rivard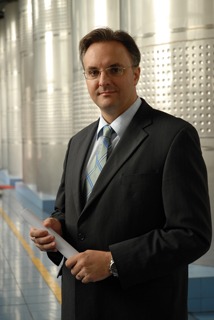 Field Stone Fruit Wines' premium products have been developed by Dominic Rivard, internationally-renowned and award-winning wine master, a recognized specialist in fruit wine, dessert wine, and ice wine production.
With over 20 years experience, for Dominic, wine is in the blood. Hailing from the Gaspe Peninsula in Quebec, Canada, he is descended from a long lineage of farmers and winemakers whose ancestry can be traced to the cider-making Burgundy Region of France. By age 17, he was already passionate about experimenting with making wines from fruits, dandelions, concord grapes and rhubarb.
Dominic, a qualified sommelier with additional accreditation in winemaking and oenology, is a founding director of the Fruit Wines of Canada Association, which promotes fruit wines and the industry throughout Canada.
He has won hundreds of awards and medals in national and international wine competitions, including gold, silver, and bronze medals and "Best of Category" honours for Field Stone's own Alberta-based Winery.
Over the last decade, Dominic has been busy running numerous wine production and exportation projects for wineries in Canada, USA, Italy, Spain, Chile, Taiwan, Korea, Japan as well as China. He has been a speaker on the subject of winemaking and wine marketing at various symposiums throughout the world.
In the burgeoning Chinese wine industry, he has become a winemaker and shareholder of a fruit winery in Tianjin, wine judge with the China Fruit Wine Association, as well as Chief Winemaker and R&D Manager for Tonghua Winery, the fourth largest winery in Asia. Recently, Dominic has been involved in running the wine production for a high quality tropical fruit winery in Thailand.
Currently based out of Nova Scotia, Dominic has taken up sustainable and organic fruit growing and continues to assist many wineries in their wine production on a consultantcy basis.
Dominic is the author of "The Ultimate Fruit Winemaker's Guide" and the dailyfruitwine.com blog. More details on Dominic are available at www.wineplanet.ca